Woman headed to prison for robbery in drug deal turned deadly

---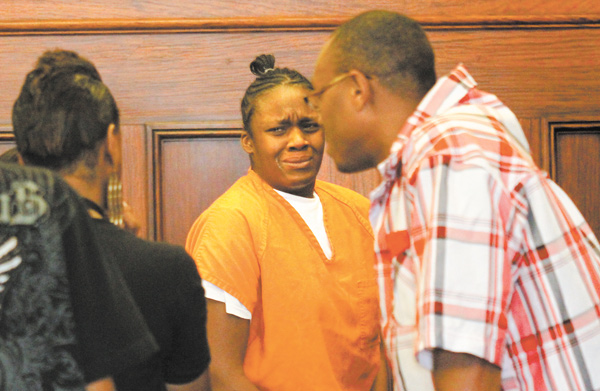 Photo
Khadijah Payden-Briggs, center, breaks down in tears with her family looking on as she leaves the courtroom of Judge John M. Durkin of Mahoning County Common Pleas Court.
YOUNGSTOWN
A 19-year-old woman charged with robbery in connection with a drug deal that ended in murder will spend the next four years in prison.
Khadijah Nicole Payden-Briggs of Maplewood Court pleaded guilty to aggravated robbery and a gun specification April 11 in a plea agreement with prosecutors. She appeared for sentencing Thursday before Judge John M. Durkin of Mahoning County Common Pleas Court. Dawn Cantalamessa, an assistant county prosecutor, and defense attorney Paul Conn agreed on a sentence of three years for the robbery charge. There is a mandatory one-year sentence for the gun specification.
Payden-Briggs was charged after police say she negotiated an early February drug deal between 32-year-old Larry Blue and three men from Columbiana County, including 52-year-old David Stokes.
Stokes went to a housing development on the city's East Side to meet with Blue. At some point during the transaction, gunfire broke out. Stokes was shot dead in the parking lot of the development. Another man, Matthew Sharp, was wounded.
Blue has been charged with murder and felonious assault. He is being held in the Mahoning County jail on a $1.25 million bond.
Blue is set for trial in September.
Cantalamessa said Payden-Briggs' plea agreement is contingent upon her truthful testimony in the upcoming trial of Blue. She said the deal is the proper course because Payden-Briggs has no criminal history and can be an asset in the case against Blue.
"She can help detail what [Blue] was planning to do. She did see him with the gun," said Cantalamessa.
Payden-Briggs offered a tearful apology to the court before her sentencing.
"I want to apologize for my part in what happened," she said. "All I did was participate in a drug deal that went bad, and I apologize."
Durkin said police and prosecutors believe that Payden-Briggs did not know someone would be killed in the transaction, hence the plea agreement. The judge, however, said the case poses a bigger question about young people making poor decisions. He said young people need to understand how one poor decision can ruin or end their lives.
Payden-Briggs can ask the court for judicial release after she has served 18 months of her sentence. Prosecutors are not expected to oppose the request.
"You are young enough to still have a chance when you get out [of prison], as hard as this is now. We will discuss that at a later date," the judge said.