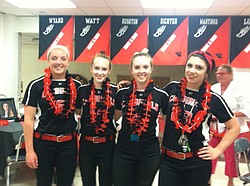 Photo
Neighbors | Submitted.On May 2 Canfield honored it senior softball players with a pre-game ceremony and a post-game reception. Seniors honored were Abby Baker, Alexa Schmidt, Sydney Opalden and Kayley Keller.
Canfield High School honor its senior softball players on May 2.
A pre-game ceremony was held on the field and a reception hosted by the junior parents followed in the cafeteria after the 7-3 defeat of Lakeview. Softball booster president Dom Prologo addressed the attendees sharing some of the highlights of this spectacular senior class which included back to back defeats of rival Poland a feat he said no one in Canfield can recall when that last occurred.
Abby Baker, a four year letter winner will be attending Wittenberg University to study communications. She will be continuing her softball career as well.
Alexa Schmidt has earned three letters at Canfield for softball. Schmidt will be attending Youngstown State University to study pre med biology and then plans to attend medical school and become a pediatrician.
Sydney Opladen, a four year letter winner will be attending Kent State University and has been accepted into their nursing program.
Kayley Keller, a four year letter winner will be attending the University of Northwestern Ohio to study Business Marketing. She will also be playing softball for the Racers who are starting their very first softball team to take the field Spring 2014.