O'Neill recalls his Youngstown roots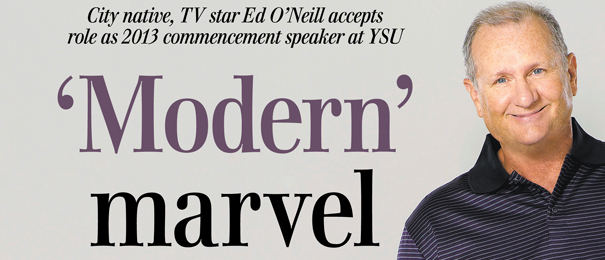 ---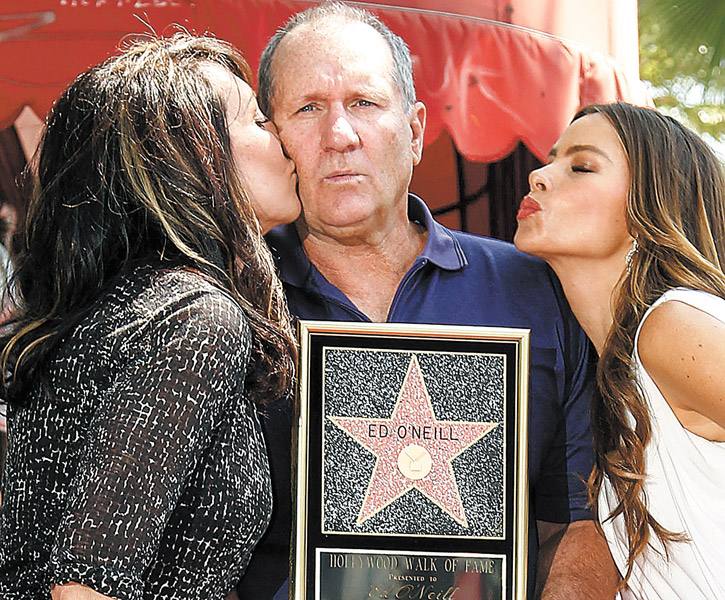 Photo
Actor Ed O'Neill, center, is kissed by actress Katey Sagal, left, and Sofia Vergara after receiving a star of the Hollywood Walk of Fame in Los Angeles on Aug. 30, 2011. Vergara stars as his wife Gloria on the ABC sitcom "Modern Family" while Sagal starred as his wife Peggy Bundy on the Fox series "Married with Children."
By GUY D'ASTOLFO
dastolfo@vindy.com
YOUNGSTOWN
Ed O'Neill remembers when he was a student at Youngstown State University.
He was a theater major at a time before Bliss Hall, with its two modern theaters, had been built.
"We did the plays at Jones Hall, in a converted gym," said O'Neill. "But you don't need anything fancy to put on a play. And we had a pretty strong group of actors at that time, maybe 10 strong performers.
"We rehearsed a lot, too. I remember being there sometimes until 2 in the morning when we were close to opening night."
O'Neill, of course, would go on to use his YSU education to become one of the most successful sitcom actors of all time.
The star of ABC's "Modern Family" is back in his hometown of Youngstown this week to give the commencement address at YSU on Saturday morning. He also will receive an honorary Doctor of Arts degree at the ceremony.
"It's a nice honor, and I suppose I've earned it in this field," O'Neill told The Vindicator. He said he plans to share some stories of his career in his address to the graduates but will keep the advice-giving to a minimum.
"I might tell [the graduates] a couple stories that may help them in some ways," said O'Neill. "I can only talk about what I did [to find success]. You have to put yourself in the way of fortune, get yourself around it and not give up on yourself. There's not a whole lot you can tell anyone ... [except] if you want to catch a fish, you better go to where there is water."
O'Neill certainly has pursued every one of his career goals as vigorously as he could.
He grew up on the North Side, where he graduated from Ursuline High School, and then attended YSU in the 1960s. While an undergraduate, he was a defensive lineman for the Penguins football team and also acted in many university theater productions.
In 1969, O'Neill was signed as an undrafted free agent by the Pittsburgh Steelers but was cut in training camp.
He returned to Youngs-town where he worked as a teacher and held other jobs while appearing in local stage productions.
In 1977, O'Neill moved to New York to pursue an acting career. He did stage and film work there until 1987, when he landed the role that would catapult him to fame: the sad-sack shoe salesman Al Bundy in the Fox sitcom "Married ... With Children." O'Neill relocated to Los Angeles, and "Married" enjoyed an 11-year run.
In 2009, O'Neill's career hit new heights when "Modern Family" debuted. He plays Jay Pritchett, patriarch of a California family, in the acclaimed ABC sitcom, now in its fourth season.
In both 2011 and 2012, he was nominated for an Emmy for Outstanding Supporting Actor in a Comedy Series for his work on the sitcom.
O'Neill's other television credits include roles in "Dragnet," "Miami Vice," "The West Wing" and "John from Cincinnati." He also has appeared in numerous movies, including "The Bone Collector," "Little Giants," "Dutch" and the "Wayne's World" series.
In June, O'Neill will begin work as a voice actor in the upcoming sequel to "Finding Nemo," the hit animated film. "I play a disgruntled octopus named Hank," he said. O'Neill also is the voice-over narrator in commercials for Zyrtec sinus medicine.
In August, shooting will begin for the fifth season of "Modern Family."
While O'Neill has worked hard at his craft, he admits that he is still surprised and humbled by his success. "It's been 37 years since I left Youngstown, but when I look back it's still kind of stunning," he said. "How did it happen? Anyone who tries to tell you that you plan these things is lying. You work hard and hope for the best."
He also noted that his success has made it difficult to go out in public without being recognized. "It's gotten much worse since 'Modern Family,'" he said. "But it's fine. I wouldn't reverse it."
O'Neill also talked about a YouTube video that he made a few weeks ago. It already has received more than 14,000 hits — including many Youngstowners.
In the four-minute, 27-second video, O'Neill plays a harmonica and talks about how his love of music was nurtured while growing up in Youngstown. He mentions a series of bands, singers and nightspots in the city.
The video was created as an address to attendees of an April 25 fundraiser for CreativeBridge Coalition at the Fireplace Restaurant in Poland. "We did it in one take at my house," said O'Neill. "I know Bill Bodine [of CreativeBridge] and he called me and asked me if I'd do it. I hadn't thought about those [bands and nightclubs] in a long time."
CreativeBridge uses music to help special-needs children and young children.
More like this from vindy.com