Grange gives honors at annual meeting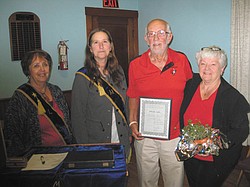 Photo
SPECIAL TO THE VINDICATOR Dublin Grange 1409 of Canfield honored outstanding members at their meeting April 24. Some of those participating, from left, are Linda Lanterman, lecturer; Debbie Raber, master; Howard Moff and Barbara Moff, honorees.
Saff Report
CANFIELD
Dublin Grange 1409 of Canfield honored outstanding members and guests at its annual open meeting April 24. The event recognizes long-term members and officers and outstanding community citizens who make a difference in their area of service.
Chosen this year for outstanding community service was Howard Moff, accompanied by his wife of 57 years, Barbara. Moff is a member of the Canfield Fair Board, supervising the huge dairy and cattle department for 14 years. He is a lifelong dairy farmer, and with his wife drove a school bus for Boardman district for 47 years. They are parents of three sons, Greg, Steve and Duane, and have nine grandchildren. Moff spoke about the changes in the dairy business.
Those honored for long-term membership were Michelle Hartman for 25 years, and her father, Gary Reel, for 50 years. Others mentioned with 50-plus-year memberships included Elsie DeHoff, Vada Reel, Kenneth Reel, Esther Snyder, Paul and Marion Manchester and Jack Mauch.
Past masters (leaders) recognized who were present were Hartman, Gary Reel, Vada Reel and Zella Baker.