DeBartolo Foundation awards $56,000 to 8 Valley students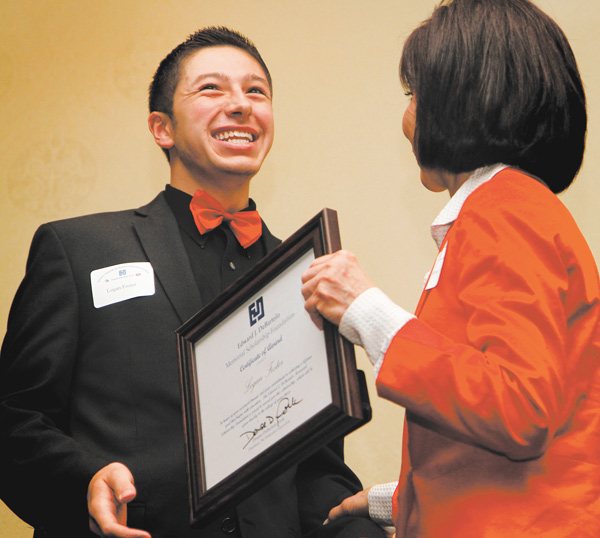 ---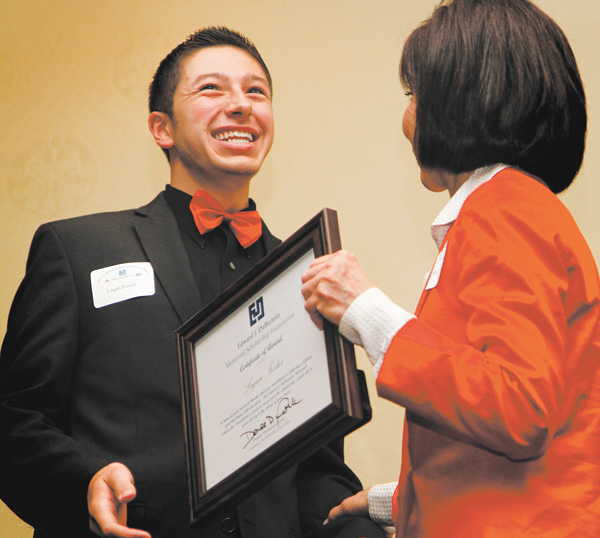 Photo
Denise DeBartolo York presents Logan Foster from East Palestine High School with a plaque marking his receipt of a scholarship from the Edward J. DeBartolo Memorial Scholarship Fellowship. Eight students received the scholarships totaling $56,000 at a Thursday luncheon at the Holiday Inn in Boardman.
By Denise Dick
BOARDMAN
Sebring McKinley High School senior Noelle Poole has been supporting herself since last September, working two jobs while completing her course work.
The $7,000 scholarship she received from the Edward J. DeBartolo Memorial Scholarship Foundation will help her as she studies nursing next year at Kent State University at Salem.
"It will pay for my first year," Noelle said.
She works part-time at a pizza shop and at a cafe to pay bills while maintaining a 3.8 grade-point average.
"I work six days a week and stay up late to study and do my homework," Noelle said, acknowledging that she doesn't have much of a social life.
She's one of eight students from Mahoning, Trumbull and Columbiana counties to receive the scholarships which total $56,000. Denise DeBartolo York and her husband, Dr. John York, awarded the scholarships Thursday at a luncheon at the Holiday Inn.
DeBartolo York said the recipients were chosen from hundreds of applicants. Each submitted an essay as part of their application.
"The goals of the foundation have been to reward Valley students, who have proven to be hard working within their community, the opportunity to go to college," she said. "My father believed that all students who have demonstrated intensity and desire, regardless of their financial situation, should be afforded the opportunity to receive a college education."
DeBartolo York said the scholarships reward the students' hard work "and — this is what gets me right here — mostly your courage."
Taylor Kutsch, who maintains a 3.93 GPA at Liberty High School and is that school's valedictorian, plans to earn a degree in social work from Youngstown State University, Ohio University or the University of Cincinnati. She also works a part-time job while participating in the speech and debate team, tennis team and National Honor Society.
Taylor's career choice was informed by her own experiences. She wants to specialize in drug rehabilitation.
"I wasn't trying to give them a sob story," Taylor said of her application essay.
She wrote about how she and her sister spent a lot of time alone because her mother was addicted to drugs, and her father spends a lot of time away as an over-the-road truck driver.
Her mother has been clean for more than a year, Taylor said.
"It wasn't a sob story. It was a story of inspiration," she said, adding that she was inspired to do better.
Other recipients:
Elexis Blake, Bristol High School, plans to earn a degree in accounting from KSU . She maintains a 3.4 GPA in mainstream classes with the help of an American Sign Language interpreter. Despite her hearing impairment, she was captain of two varsity sports teams and is active in school activities.
Logan Foster, East Palestine High School, plans to earn a degree in theater at either Baldwin Wallace or Miami University. He maintains a 4.0 GPA while working a part-time job and participating in NHS and drama and Rotary clubs,
Mary O'Donnell, Ursuline High School, plans to earn a degree in education from either YSU or KSU and maintains a 3.5 GPA while working part-time and competing for her school's basketball and cross country teams and volunteering for other organizations.
Rachael Rendessy, Jackson Milton High School, has set her sights on a degree in biomedical humanities from Hiram College and has a 3.4 GPA while working part-time and participating in several school activities including the newspaper, yearbook and Key Club.
Gina Sylvester, John F. Kennedy High School in Warren, will attend YSU. She maintains at 4.0 GPA and is a member of NHS, Math Club and Animal Advocacy.
Stephanie Tieu, Boardman High School, recipient of the Donald P. Pipino Memorial Award. She plans to attend either YSU or KSU to pursue a degree in biochemistry. She maintains a 3.85 GPA, works as a tutor and participates in Spanish, science and math clubs. The award is named for the late Pipino, a leader in the insurance industry and was especially interested in advancing the education of financially challenged but eager students.
The scholarships are made possible through the support of the annual Edward J. DeBartolo Memorial Scholarship Foundation Celebrity Dinner Auction which will be presented this year by PNC and Hawthorn PNC Family Wealth.
More like this from vindy.com