McDonald ousts Mineral Ridge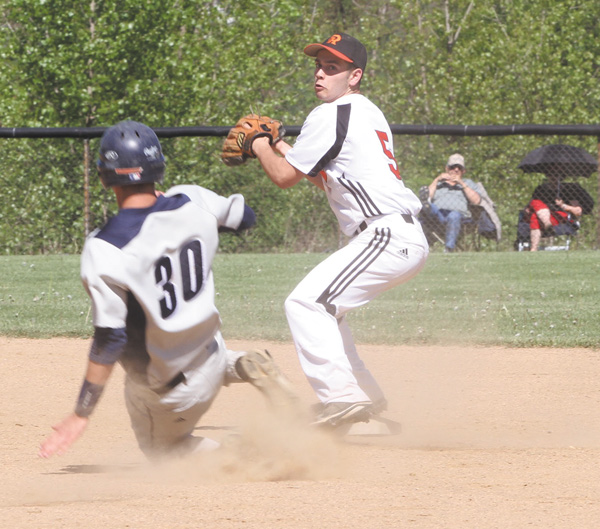 ---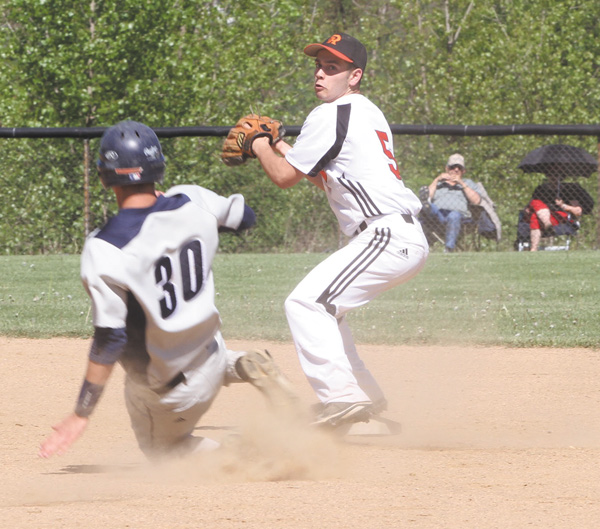 Photo
McDonald's Christian Rusinowski (30) tries to keep Mineral Ridge's Nick Ferguson from making the double play at first during their Division IV sectional final Thursday in McDonald. The Blue Devils ousted the Rams, 16-2.
By Brandon Judeh
sports@vindy.com
McDonald
Going into the third inning, with the McDonald and Mineral Ridge sectional championship game knotted at 2, Blue Devil's head baseball coach Matt Vukovic had a message for his team.
"I told them they needed to step up and act like men, stop blaming each other for what was going wrong and get out there and do the best you can."
The result was a 14-run third inning explosion that led to an easy 16-2 victory over the Rams.
With two outs and the score 4-2 in favor of the Blue Devils (19-4) things got sloppy for the Rams (10-16).
Six errors later McDonald had a 14-run lead and never looked back.
"I keep telling our guys to never give up and keep working hard, don't ever be satisfied with a lead," said Vukovic. "They are getting to the point where they don't look at a situation like there's two outs, often they ask me how many outs there are, I just tell them I stop when the inning is over."
Eight different players knocked in RBIs in the inning, via hits, walks and errors, but it was starting pitcher Mike Raschilla who had the biggest impact.
Raschilla went 2-2 in the inning with three RBIs; he finished 3-3 for the second straight night with five RBIs and a first inning 2-run home run over the left-center field fence.
He also struck out nine batters and gave up just two hits; a night after teammate Mike Schuller struck out 10 and pitched a no-hitter against Lordstown. McDonald won that game 13-0.
"It was great to come out and get a big win like this against our rival, as a team we were all focused, overall this was a great team effort that we hope to carry over into the districts next week at Cene Park," said Raschilla.
Raschilla has been locked in all season, as both a hitter and pitcher.
He is batting well over .700 at the dish and has a paper thin ERA of below .50, something Raschilla credits to all of the time he put in during his offseason workouts .
"I put in a ton of work in the offseason, I focused on different techniques and picking up pitchers moves, but really it all goes back to fundamentals," added Raschilla. "I've been seeing the ball well all year."
Vukovic agrees.
"It's a luxury to have a guy hitting and pitching like Raschilla is, but a lot of our guys are hitting well right now and we are playing great as a team," Vukovic said.
Raschilla wasn't alone in the offensive explosion, teammate Christian Rusinowski had two hits and a pair of RBIs while number nine hitter Mike Soots reached base in all three of his at-bats and knocked in two runs.
For Mineral Ridge sophomore Darren Colon had an RBI triple in the second inning and senior Brandon Bukofchan had an RBI double and made several nice plays at shortstop in his final game.