St. Jude Church hosts plant exchange, giveaway this weekend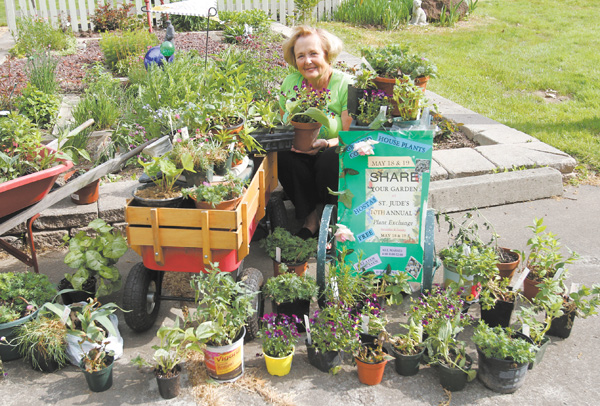 ---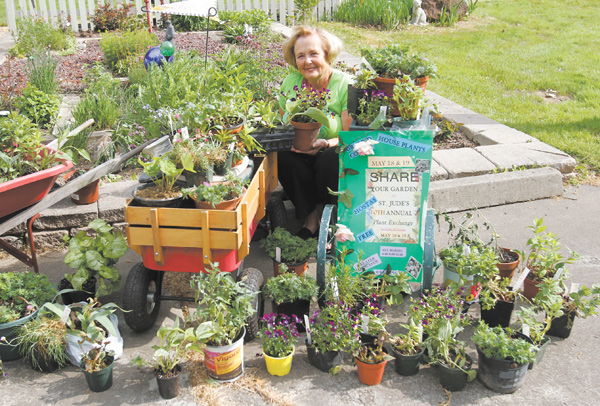 Photo
Peggy Potts is surrounded by some of the plants that will be offered at the 10th annual plant exchange and giveaway this weekend at St. Jude Church, 180 Seventh St., Columbiana. She and Doris Daniszewski began the pass-along plant project 10 years ago. At top, perky pots of pansy plants will make another gardener smile.
By LINDA M. LINONIS
Columbiana
Peggy Potts feels gardening takes her to a spritual place.
"The seed becomes a plant, vine or ground cover and grows and grows," she said, adding she appreciates the soil, sun and rain as parts of God's creation.
"I think people feel close to God in a garden," she said, recalling the Garden of Eden.
A decade ago, Potts and Doris Daniszewski started a plant exchange at St. Jude Church, 180 Seventh St. "We just love flowers and like to share them," she said of the plant pass-along project.
Sharing the bounty of their gardens with friends and fellow gardeners seemed only natural.
That seed of an idea grew into a much bigger project, now marking its 10th year. Last year, Potts said, there were some 500 plants in the event, and this year, she is hoping for that number or more.
People can give and get plants this weekend after the 4 p.m. Mass on Saturday and 8 a.m. and noon Masses on Sunday. After each service, plant-exchange participants may sign up to win a hanging basket.
"It's a good way of sharing ... and showing how you care about plants," she said. "And there's some good fellowship."
Potts said the plants come from church members who like sharing. "We're fortunate to have two people who have personal greenhouses and grow a lot," she said. They are Eugene Primavera and Ellis Hawkins, church members, who grow impatiens, peppers and tomatoes from seed.
"We started out with two tables, and now we have eight with many more plants on the ground," she said.
Potts said the giveaway and exchange includes vegetable plants such as tomatoes and peppers, which are the most popular; herbs such as basil and parsley; houseplants including jade and spider; and flowering plants such as irises, shasta daisies, butterfly bushes and hostas.
Potts said the number of tomato and pepper plants one person may take is limited so that the plants reach many people.
But it's more than the plants that are shared, she said. "People talk about their gardens, their growing experiences, and some have questions," she said.
Potts and her husband, Harry, live on 10 acres in North Lima. Flower gardening and raised vegetable beds are part of their spring and summer routine. Roses are her favorite flower.
She belongs to Johnny Appleseed Garden Club. She and her husband participate in Canfield Fair and Garden Forum gardening events.