Kluber's pitching, home runs power Indians over Phillies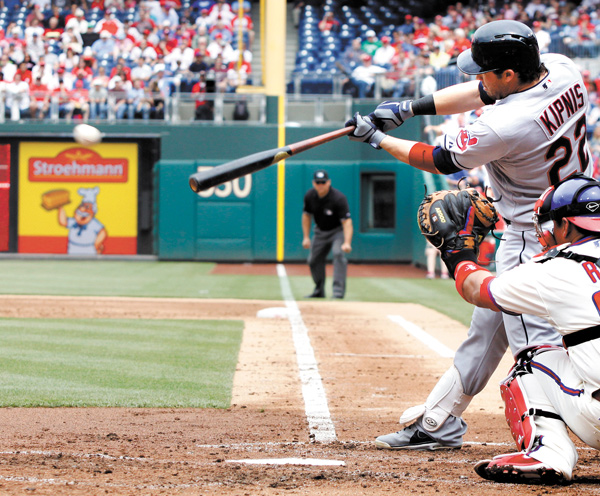 ---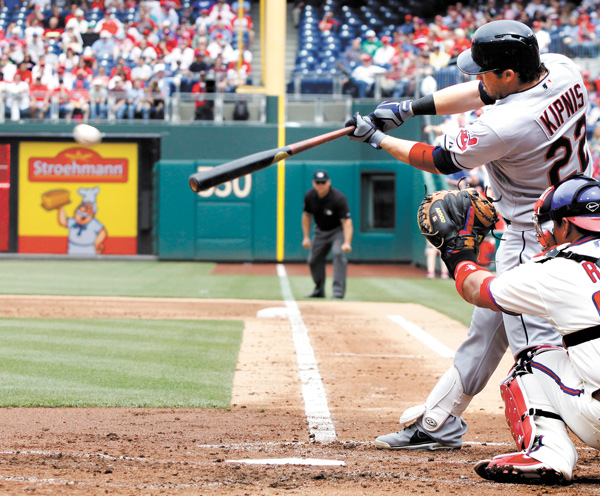 Photo
The Indians' Jason Kipnis hits a double against the Philadelphia Phillies during the third inning of an interleague basball game Wednesday in Philadelphia. Kipnis connected for a three run homer in the eighth, and Cleveland defeated Philadelphia 10-4.
Associated Press
PHILADELPHIA
Corey Kluber inspired his teammates with a tough at-bat his first time up to the plate in the majors.
Jason Kipnis hit a three-run homer, Nick Swisher and Mike Aviles also went deep to back Kluber, and the Cleveland Indians beat the Philadelphia Phillies, 10-4, Wednesday.
Kluber (3-2) gave up three runs and six hits in six innings. But it was his first career AB against Cole Hamels in the second inning that set the tone. Kluber fouled off consecutive 1-2 pitches and worked the count full before flying out to deep left.
"I guess that's beginner's luck," he said.
Maybe so, but it made the hitters adjust their approach.
"Corey woke us up, having the best at-bat in the first couple innings," Kipnis said. "We did a nice job not chasing his pitches. That's an approach we try to take against everyone. We want to see some pitches, get quality at-bats."
Hamels needed 91 pitches to get through four innings and reached 100 in the fifth.
"We drove his pitch count up early," manager Terry Francona said. "We made him earn his outs and we scored early. It's great to work the count and have something to show for it."
A day after rookie Jonathan Pettibone held the Indians in check, Hamels got roughed up by one of the league's highest-scoring offenses. Cleveland had been in a slight funk, scoring just seven runs in its previous four games.
Hamels (1-6) allowed five runs and six hits in five innings. The three-time All-Star and 2008 World Series MVP has a 4.61 ERA, and the Phillies are 1-8 in his starts. Hamels had six straight quality starts before this one, with a 2.41 ERA in that span.
"You have to go out there and execute pitches," Hamels said. "I wasn't able to do that early on. I think any time you go 3-2 to pretty much the whole lineup over and over, you're not putting yourself into a good spot. I was pitching myself into situations where most likely they're going to get the hits, they're going to get the walks, they're going to score the runs."
Jimmy Rollins drove in three runs for Philadelphia, which ended a three-game winning streak.
The surprising Indians have won 12 of 16 and are 22-17 under Francona, in his first year with Cleveland after winning two World Series title in Boston in 2004 and 2007.
Now the Indians get a day off after playing 14 games in 13 days. They'll play 20 straight, starting Friday against Seattle.
"These guys need it," Francona said. "They deserve it. They need a day away from the ballpark."
Kluber rebounded nicely after allowing eight runs in 42/3 innings against Detroit in his previous start.
"I threw more strikes, was more aggressive in the strike zone and didn't fall behind guys," he said.
Mark Reynolds hit a two-run double with two outs in the third to give the Indians the lead. Kipnis doubled and Asdrubal Cabrera walked before Reynolds hit a drive to left to knock them in.
John Mayberry Jr. singled in the third, advanced on a sacrifice and scored when Rollins lined a two-out single to cut it to 2-1.
Rollins delivered another clutch two-out hit in the fifth. After singles by Carlos Ruiz and Mayberry, he ripped a two-run double to right to cut the deficit to 5-3.
Aviles lined a homer to left in the fourth for a 3-1 lead.