Fitch rallies to beat Kent Roosevelt for sectional title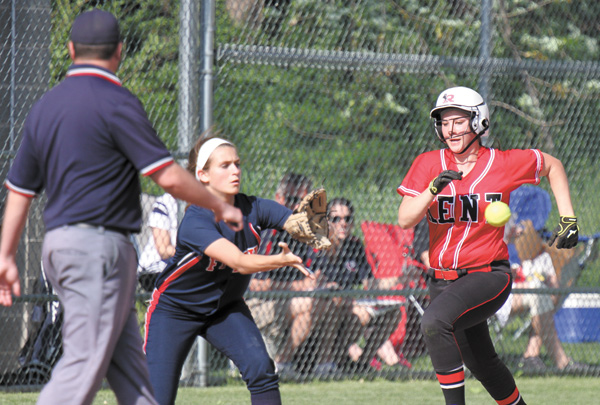 ---
By Tom Williams
AUSTINTOWN
Fitch vs Kent Softball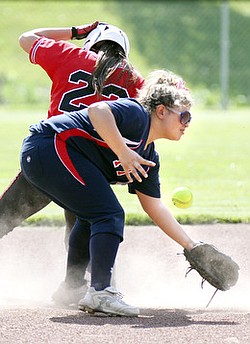 Gallery
Austintown Fitch defeated Kent Roosevelt 4-2 in a softball game May 15, 2013.
Austintown Fitch High softball coach Melody Ward says her Falcons have a created a special season.
Exhibit A: junior first baseman Gabby Butcher's two-out RBI double in the bottom of the sixth inning of Wednesday's 4-2 victory over Kent Roosevelt in the Division I tournament.
Through five innings, the Falcons' only hit off Kent's Megan Nicholls was Cali Mikovich's lead-off single in the first inning.
Trailing 2-1, Mikovich led off the sixth frame with a base hit. A wild pitch sent her to second and she reached third when Alana Callahan reached on an error by shortstop Megan Durnan. Alex Corradi singled to score Mikovich with the tying run and send Callahan to third.
Alex Franken's sacrifice fly to left field appeared to give the Falcons the lead. But the Rough Riders successfully appealed that Callahan left third base early.
On the next pitch, Butcher slammed the ball into left field, scoring Corradi for a 3-2 lead. Then Mercedes Pratt blooped a single near the right-field foul line to score Butcher.
"There is something very special about this team," said Ward who is coaching in her ninth season. "Gabby is just a prime example of a big-time player coming through for her team.
"Gabby has gotten so much better from her freshman year, she's really developed as a hitter. She been coming up with some clutch hits."
Butcher said the unusual double play didn't disrupt her concentration. "I looked up at the scoreboard and saw that we really needed a run," Butcher said. "It reminded me that I had to pull through and do my job."
Butcher said she had no idea how well she connected with the pitch. "Actually, I was not sure [until] I rounded first," Butcher said. "I was so excited.
"We're sectional champs, we get to go on."
Franken, a freshman, retired the Rough Riders (15-8) in the seventh inning with a groundout, strikeout and lineout to send the Falcons to next week's district tournament at Boardman's Fields of Dreams.
"It really boosted my confidence," Franken said of finally working with a lead. "Our defense was spot-on today — it was amazing."
Ward appreciates the hard work her young pitcher puts in.
"I definitely see something Alex very special," Ward said. "That's a girl that is going to work so hard for you in the offseason pitching four, five days a week, seeing a pitching coach, working out.
"She's probably one of the hardest workers I've seen."
Mikovich ignited the Falcons' offense with two hits, a sacrifice bunt, two runs scored and alert baserunning. In the first inning with the Falcons (18-7) down 1-0, Mikovich singled then advanced to third base on Callahan's sacrifice bunt.
"Rounding second, I saw nobody there," Mikovich said. "Halfway there, I did see somebody coming back but I felt confident enough that I could get to the base fast enough."
Mikovich tied the game on Corrardi's sacrifice bunt.
"I feel that when we really need to kick it into gear, we really get it done," Mikovich said. "We have such good team chemistry that we are in pressure situations, we come up big."
Franken (18-7) frustrated the Rough Riders who scored solo runs in the first and fourth innings. All four of their stranded baserunners were in scoring position.
Sadie Janus had a RBI single in her first at-bat and doubled and scored the next time up.