Niles edges Canfield in sectional final baseball game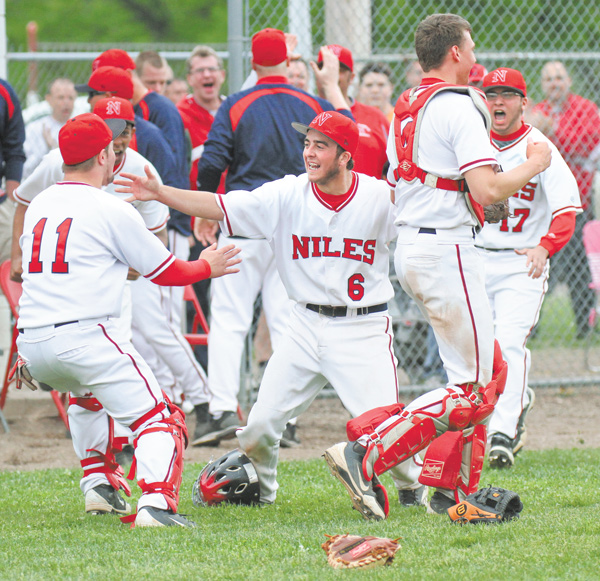 ---
By Steve Ruman
NILES
What a difference a month makes.
Niles defeats Canfield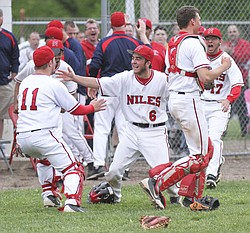 Gallery
Niles defeats Canfield in a 1-0 baseball game.
In mid-April, Canfield traveled to Niles and came away with a convincing 18-2 win.
The loss dropped the Red Dragons' record to 5-5.
On Tuesday, the two teams returned to Wilder Field, this time competing in a Division II sectional final.
This time, Niles received a stellar pitching performance from Tyler Wiery and a clutch sixth inning, two-out RBI double off the bat of Ian Hileman. The result was a 1-0 victory and a sectional championship.
The win lifts Niles' record to 19-6. More importantly, it sends the Dragons into a district semifinal contest next Monday against All-American Conference foe Struthers.
Canfield, which finishes 13-11, will not have an opportunity to defend its district crown. The Cardinals are the two-time defending district champs, and have played in the district title game 10 consecutive years.
"That's baseball. You just never know how things are going to play out from one game to the next," said Niles coach Mike Guarnieri. "Baseball is a strange game where one guy can dominate and decide the outcome. Tonight, Tyler (Wiery) was that guy."
Indeed, Wiery turned in a dominating performance, limiting the potent Canfield offense to just four hits while recording six strikeouts in a complete-game victory.
Still, the Cardinals had their opportunities. They put a runner on third with one out in the third, but he was gunned down at the plate on a grounder.
In the sixth, the first three Canfield batters reached on a hit batsman and a pair of singles, but the lead runner was erased on a 9-3-2 putout.
After Niles scored the game's first and only run in the sixth, Canfield loaded the bases in the seventh on a pair of two-out singles, followed by a walk.
However, Wiery ended the rally and the game with a strikeout of Dylan Williams.
"I've been preparing for this moment for a long time," Wiery said. "I've been playing baseball since I was five years old. I was nervous and my heart was pounding, but I just had to bear down and go at them.
"With those runners on base, I just look past that and go after the guy at the plate. I put confidence in myself and especially in my defense. They made plays all game long."
Canfield starting pitcher Tony Velasquez turned in his own gem, surrendering just four hits and striking out four. Niles put runners in scoring position with less than two outs in both the fourth and fifth innings, but Velasquez escaped both jams.
But in the sixth, Niles broke through after Velasquez hit Wiery with a pitch to lead off the frame. Wiery eventually advanced to third with two outs, then scored when Hileman laced a double to right-center.
In the fourth, Hileman struck out with runners on second and third and one out.
"That's the beauty of the game, so many times you get another shot," Guarnieri said. "This was a big win for our program. We just beat one of the better programs around."
Derek Turocy and Jimmy Leone each collected a pair of singles for the Cardinals.
Niles and Struthers will meet next Monday at 4 p.m. at Cene Park in Struthers. The winner will advance to a Division II district title game.