---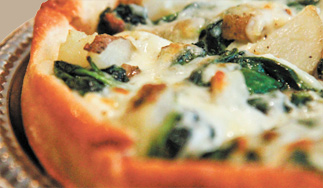 Photo
Potato and Greens pizza at Marino's Italian Cafe in Austintown.
If You Go...
Where: Marino's Italian Cafe
Address: 5423 Mahoning Ave., Austintown
Phone: 330-799-8326
Hours: 11 a.m. to 10 p.m. Sunday through Thursday; 11 a.m. to 11 p.m. Friday and Saturday; and a lunch buffet on Wednesday, Thursday and Friday from 11:30 a.m. to 2:30 p.m.
Website:
Thirty-four years is a long time. It's almost as long as I've been alive. So, when I heard that Marino's Italian Cafe has been established for that many years, I was really excited to try it and see for myself what made it so special to have stayed alive through the good times and bad. And of course, I was looking forward to some great pasta, who are we kidding?
Looking at the website, www.marinositaliancafe.com, I became obsessed with the moment that I would get to taste the homemade pizza. Look at the pictures online — they're tantalizing.
Arriving to dinner, we were greeted by a smiling waitress who told us we could sit wherever we wanted. We chose a cozy booth and looked around while she got us some water. The place looked fresh, newly redone. Nice lighting, wooden floors and a Family sign that led to the kitchen, which is appropriate for this Italian family restaurant. In the back was a table full of guys immersed in discussion and laughter. I later found out they are the Monday regulars, ex-teachers from Austintown Fitch who get together to visit and (of course) eat the Brier Hill pizza! This knowledge further confirmed we had to try the delicious looking, and now sounding, pizza.
Our waitress, Barb, returned and went over the menu with us and gave some great suggestions. She let us know that everyone loves the Chicken Rockafella ($17.99). She was also quick to sing praises over all the appetizers, the Frutti Di Mare ($16.99), homemade gnocchi ($11.99), Anna's daily-made rolls (they come with every meal) and last but not least, the pizza. Coming from a woman who had been in the pizza business for 19 years herself, I chose to believe her.
And so, we ordered. Two pizzas, the Potato and Greens Pizza ($7.99 for a small, $13.49 for a large) and the other split between Brier Hill and Pepperoni & Cheese. Amazing. I would come here just for pizza and soda, beer or wine.
The Chicken Rockafella, a breast of chicken topped with crab meat, shrimp, asparagus and mozzarella cheese and served with a sherry wine sauce. Delicious. Be sure to save yourself from eating the whole basket of Anna's buttery rolls, so you can dip some in this sauce!
A cup of the Wedding Soup ($2.99). Calamari Fritti ($8.79). Italian Delight, a combination of lasagna, manicotti and ravioli ($12.99).
By this time, the lovely owner, Anna, and her son Johnny (who owns Mojo's down the street) had gotten hold of us. And we all know what Italians do when they get hold of you. ... They feed you until you burst! So we added Pork Rotilini (a special of Johnny's not on the normal menu) and Veal Capri ($16.99) to the list as well. So we basically had a bit of everything, and let me tell you this, I will be back. Not only was it delicious, but we felt like family.
Marino's also does offsite catering and offer a banquet room! Not sure how they do it all, but obviously they've got the recipe for success, 34 years later.
You can reach Erin at erinfood30@gmail.com.
About Food:30
We are offering a glimpse into local restaurants and eateries by reviewing their food offerings.
Check out our blog on www.vindy.com/news/valleyfood.