Fitch sweeps AAC American team championships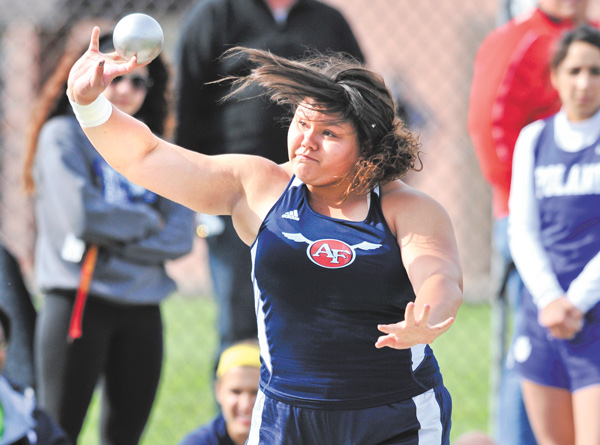 ---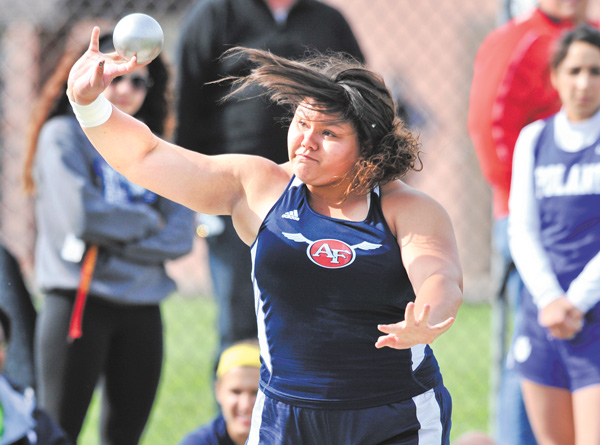 Photo
Fitch junior Gabby Figueroa puts the shot during Tuesday's All-American Conference American Division meet at Poland High School. Figueroa won the shot and discus to help the Falcons win the team title.
By Joe Scalzo
Poland
Technically, the All-American Conference has two tiers but when it comes to track, it has three — the American Division, the National Division and the Austintown Fitch Division.
The Falcons' boys and girls each won 10 of the 17 events to cruise to team titles at Tuesday's American Division meet, the inevitable consequence of voting the track powerhouse into the league two years ago.
"Is it beating the crap out of them?" said Fitch boys coach T.J. Koniowsky, who pointed out that conference rivals Canfield and Howland will compete at the same Division I district meet last week. "I don't know. It's just doing what we do.
"Track's not really one of those sports where you can say, 'We're gonna do this and we're gonna do that.' We just take our horses, put them on the track and see what they can do."
While their horses did pretty well on the track — sophomore Ebony Davis, for instance, set meet records in the 200 and 400 and anchored the winning 4x200 relay, which also set a meet record — they were just as good off it, with throwers Billy Price and Gabby Figueroa each sweeping the shot and discus.
Figueroa, a two-time state indoor champion in the weight throw, set a meet record in the discus with a throw of 129-6, more than three feet better than Canfield's Maggie Bresnahan threw at the 2010 meet.
"The outdoor events have always been a little more rough for me," Figueroa said. "I didn't have as much of a passion. That changed a little bit this year.
"Having more heart always helps."
Having more talent does, too. It's what allowed Price to shake off two fouled throws in the discus, dial down his intensity for a get-into-finals throw and still end up with a 20-foot victory.
"Today was a day for points, for an emphasis on the team aspect," said Price, an Ohio State football recruit. "I have to take down my pride of not throwing the way I want to make sure I get to finals and get points and get the victory for the team."
Davis also shook off a shaky start. (Well, relatively speaking.) After losing to Canfield senior Stephanie Carrocce by one-hundredth of a second in the 100, she used her frustration to fuel a dominating performance in her other three events.
"Yes, it motivated me," she said. "We were champs last year, so we had to go for it and be champs again this year."
Added Fitch girls coach Seth Steiner, "She had a little scare in the 100, where she's been pretty much undefeated on the season. We told her we needed those points moving on and she redeemed herself after a little bit of a sluggish start."
Fitch's 4x800 relay of Elizabeth Mosier, Amanda Choma, Kayla Moran and Jaclyn Choma finished in 10:03.37 to break Canfield's 2012 meet record of 10:04.66. The Falcons' 4x200 relay (Lauren Bower, Maddy Miller, Jayme Ritchie and Davis) ran a 1:46.26 to break their 2012 meet record by more than two seconds.
Fitch sophomore Dylan Latone vaulted 12-6 to break his own meet record by a foot and senior Kayla Bailey cleared 10 feet, besting her 2012 record of 8-6.
Howland junior Ryan Sullivan ran a 4:33 in the 1600 to lower the meet record by a second and Canfield's Emma Lunne lowered her meet record in the 1600 by more than eight seconds (5:18.32). Lunne also broke her 3200 record by two seconds (11:42.36).
Carrocce joined Devin Foley, Bailey Fischer and Sara Martinko on the meet record-setting 4x400 relay (4:10.85, two seconds better than the old mark).
Struthers' Arnoldo Morales high jumped 6-7, an inch better than the record.
Fitch's girls finished with 190.5 points, with Canfield (122) second and Poland (112.5) third.
The Falcon boys had 180 points, followed by Howland (110) and Canfield (100.5).
"Going into next week, this gives me a nice feel for where we're at," Koniowsky said.