Indians split doubleheader with Yankees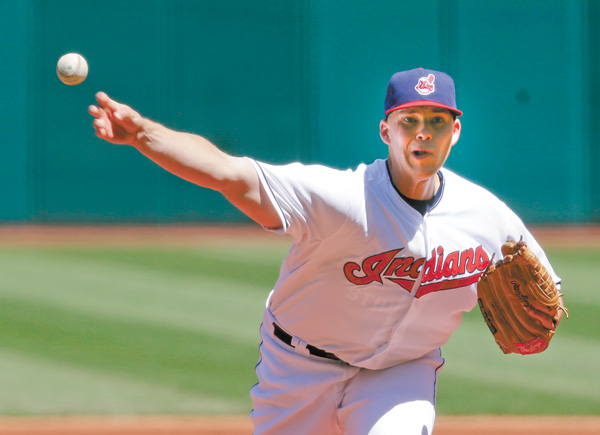 ---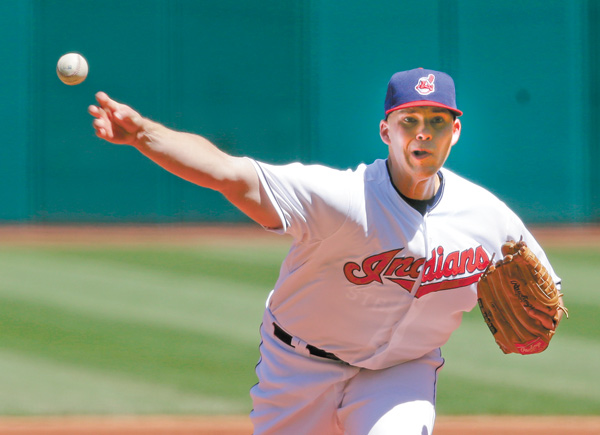 Photo
The Cleveland Indians won the first game of Monday's doubleheader against the New York Yankees. 1-0, in Cleveland behind pitcher Justin Masterson, who gave up four hits. Game 2 went to the Yankees, who shut out Cleveland, 7-0.
Associated Press
CLEVELAND
With a surprisingly large, boisterous crowd on hand and the dreaded New York Yankees in for an old-school doubleheader, the Indians scored just one run in 18 innings.
Leave it to Nick Swisher to find the sunny side of a shutout.
"Hey," Swisher said, "three games in 36 hours and win two out of three — I don't feel bad about that."
Although they were blanked 7-0 in the second game Monday, the Indians managed a split thanks to a four-hitter by Justin Masterson and a home run by Jason Kipnis in winning the opener 1-0.
The Indians would have loved a sweep, but were satisfied to get one win after being held to just 10 hits in two games.
"We had Kipnis' home run really to show for the whole day and we got a split," manager Terry Francona said. "The idea is to be one run better."
Masterson (6-2) got the ball in the opener and never gave it back.
The right-hander overpowered baseball's hottest team for his third career shutout. He also had one against the Chicago White Sox on April 12. He became the first Cleveland pitcher to have two shutouts in a season since Bud Black and Greg Swindell in 1989.
"Masty went out and did exactly what you want your ace to do," Francona said. "From the very first pitch of the game he had power, he had a breaking ball, he attacked hitters."
In the second game, Trevor Bauer (1-2) held the Yankees to one run and three hits through six innings, but was chased in the seventh when New York scored seven runs to blow it open.
Still, the unorthodox Bauer, who was recalled earlier in the day from Triple-A Columbus to make his third start, was satisfied with the longest outing of his brief career.
"I think I was a lot better today," said Bauer, who walked two and struck out four in 61/3 innings. "I'm moving in the right direction."
With the split, the Indians, who came home tied for first place in the AL Central after winning two of three in Detroit, have won 13 of 16 and are a major league-best 16-6 since April 20.
Two rainouts last month forced the one-admission doubleheader, a rarity these days. The Yankees stopped in Cleveland on their way back home from Kansas City, while the Indians returned home for one day from a trip to Detroit and Philadelphia. It was a short turnaround for the Indians, who didn't need to do much in the opener with Masterson pitching.
"When you got Nasty Masty on the hill, we timed it right," Swisher said. "We were a little tired today. It showed, but to be able to come out of that with a split, we've got to be happy with that. We were dragging a little bit and maybe in that second game we didn't bring it as much as we should have. Sometimes that's going to happen."
Kipnis homered in the first inning of the opener off David Phelps (1-2) as the Indians ended the Yankees' winning streak at five. New York came in a major league-best 22-9 since April 7.
Masterson had little trouble with a New York lineup lacking injured stars Derek Jeter, Alex Rodriguez, Curtis Granderson and Mark Teixeira. He retired the side in order four times, struck out nine and was backed by solid and sometimes stellar defense.
Francona got Indians closer Chris Perez up in the ninth to be ready in case Masterson couldn't finish. There was no need for the bullpen.
Masterson credited his defense, and said he didn't take any extra satisfaction in beating the Yankees.
"It's really just being able to win the game, whether it's 1-0, 1,500 to zero, it doesn't matter," Masterson said. "Guys were making great plays. That's what pumps you up as the game goes on. We're all in it together."
NOTES
Masterson improved to 3-0 with a 0.38 ERA in three career starts against the Yankees at Progressive Field. ... Before the opener, the Indians optioned struggling 3B Lonnie Chisenhall to Triple-A Columbus. Chisenhall, who was given the everyday job in spring training, was batting .213 with three homers and 11 RBIs. "This is not an indictment on him," Francona said. "He's going to figure it out and he's going to be a force here. I just think it's important for him now to take a deep breath and get some at-bats."