Fair's success makes Inspiring Minds want to grow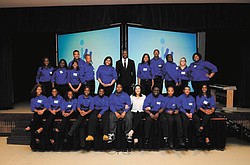 Photo
SPECIAL TO THE VINDICATOR Those involved with Inspiring Minds, a nonprofit outreach organization that works with under-represented young people, follow: seated in front, from left to right, are Darian Rucker, La'Deana Simpson, Choniece Phillips, Katrina Harris, Kendall Howard, Anthony Johnson, Patsy Kouvas, Dorian Henderson, Torin Logan, Danyo McGhee and Sa'Tima Smith. In the back row, from left, are Shawná King, Crochell Johnson, Heaven Pough, Rodney Murray, Tamarcus Honzu, Caitlyn Foster, Deryck Toles, Katera Harris, African Grant II, Denzel Stevens, Kate Lacy and Ka'Daja Walker. Not pictured are DaVonta Binion, Torrence Harper, Sydney Johnson, Ta'Geana Lofton, Jada Milner, Ami Murray, Tyra Powell, Jalaya Provitt, Jahari Provitt, Chevon Putnam, Kreana Putnam, Brad Smith, Javier Smith, Ja'Lyn Smith, Willie Stevenson and Jessica Wade.
Staff report
WARREN
The 7th annual Inspired Tastes International Street Fair drew a capacity crowd April 20 at St. Demetrios Community Center, 3223 Atlantic St. NE.
The fundraiser presented the nearly 400 people in attendance with an array of popular foods from eight cultures, student entertainment, scholarship awards, a Community Achievement Award and check presentations.
Inspiring Minds seniors received several scholarships donated by businesses, organizations and residents of the community. Danyo McGhee, Darian Rucker, Javier Smith, Sa'Tima Smith and Denzel Stevens all acquired scholarships for education in their fields of interior design; business and entrepreneurship; engineering and architecture; nursing; and telecommunications.
Dante Capers, head principal of Warren G. Harding High School, received the Community Achievement Award. Inspiring Minds students nominated him for his dedication to their education and future after high school.
Two check presentations highlighted local and national support as Inspiring Minds Director Deryck Toles accepted donations of $5,000 from General Motors and $25,000 from BP America.
Toles said the organization is seeking a larger venue for next year's gala, more scholarships for students and more outstanding residents who deserve recognition for their efforts to improve the lives of young people in the community.
Inspiring Minds, a nonprofit outreach group, can be found online at www.inspiringmindsyouth.org.