Watson Elementary signs off with flourish of memories, charity
---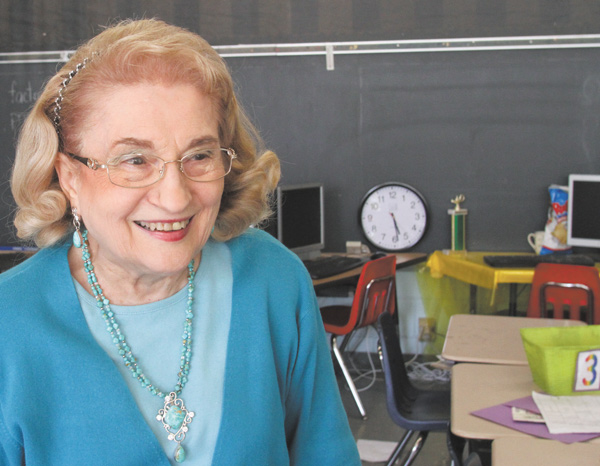 Photo
Rae Jeanne Mollica visits her old classroom at Watson Elementary in Austintown during a Monday open house at the school. She started teaching there in 1963 and is now a tutor at the school, which is set to close as new buildings are constructed.
By Susan Tebben
AUSTINTOWN
Hawaiian leis were draped over visitors at Watson Elementary on Monday as they said goodbye to the building giving way to the consolidated elementary school being built directly behind it.
Families, students and current and former staff flipped through photo albums, bid in auctions for class photos, and walked along the hallways that now are covered in marker drawings and messages from the students.
"We love you, Watson," one student scrawled on the floor, along with a self-portrait.
The person who seemed least likely to condone writing on walls and floors had the biggest hand- writing.
"The future is in your hands," said the message, signed by Principal Sheila Palombo.
Palombo said she had mixed feelings about leaving the school, having student-taught at the school in her first few years as a teacher and then becoming its principal. She quoted from her letter in the final Watson yearbook to explain her feelings about the school.
"The fond memories and great experiences we shared are unique because they are the last memories that will echo through these hallways," Palombo said.
Former Principal James Carchedi, who attended the farewell ceremony, is helping to keep the memory of Watson alive in a different way. He has been helping the Holy Rosary Church in Lowellville with the building of a new school in Central America. Carchedi helped the church secure 100 desks from Watson to be taken to the school.
Though he won't be able to walk through the rows of desks in Watson anymore, the fond memories of the school have stayed with him even after he retired in 2010.
"In my career, I would always book assemblies that were very educational and fun for the kids and the look on the kids' faces was the best part of my job," Carchedi said.
Since the beginning of the school, which opened in January 1962 as a kindergarten through sixth-grade building, it has remained largely the same, according to a teacher who has been a part of Watson since it began.
Rae Jeanne Mollica started as a teacher in 1963, teaching mostly first grade and becoming a reading specialist. She retired in 2007 but has remained at the school as a tutor and volunteer.
"It's always been like a family, everyone was very close," Mollica said.