Poland Dobbins elementary student garners national honor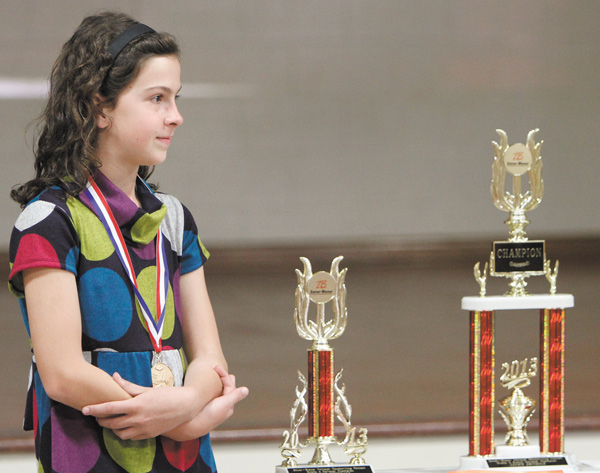 ---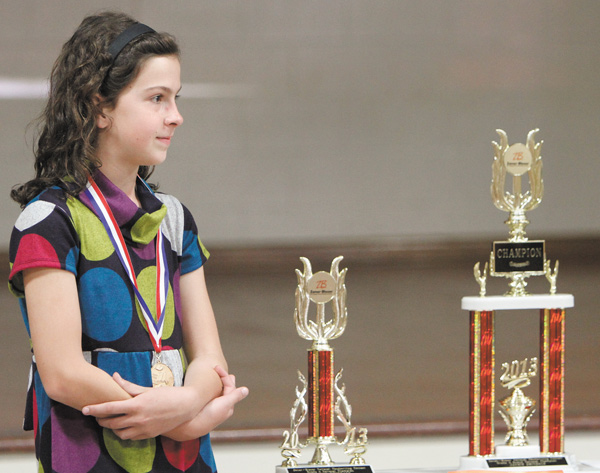 Photo
Jackie Grisdale listens to a presentation about her wins as grand champion of the 2013 National Handwriting Competition. The fourth-grader was honored by language-arts company Zaner-Bloser as the grade-level state, national and grand national champion of its annual contest.
By Susan Tebben
POLAND
Texting and typing on a computer are common-place for fourth-graders nowadays. But for Jackie Grisdale, it was cursive writing that paid off.
"Handwriting is fun if you take the time to do it well," said Jackie, a student at Dobbins Elementary.
Jackie was rewarded for her work when she became the state, national and grand national grade-level champion of the 2013 National Handwriting Contest sponsored by Zaner-Bloser, a Columbus-based language-arts and reading company.
The National Handwriting Contest is open to grades one to eight and in 2013, the contest had 285,000 participants.
Dobbins has had state winners in the past, but Jackie is the first national and grand national champion for the school. Principal Cheryl Borovitcky said despite the convergence of technology in education, handwriting is still an important part of learning, which is why the school participates in the contest.
"Our school continues to place an emphasis on good writing skills as part of the overall education of our students," Borovitcky said.
The writing entries for the Zaner-Bloser contest, which include the contestant's name, a sample sentence and short answer question, are judged on size, shape, spacing and slant of the handwriting.
State grade-level winners compete to become one of 16 national public- and private-school grade-level winners, and those winners compete to be one of eight grand-national grade-level champions.
For her three wins, Jackie received a medallion, two trophies and a check for $1,000 at a ceremony at Dobbins last week.
"I was happy and surprised to win," Jackie said. The 10-year-old said she hopes to be a teacher like her parents, Kim and Ken Grisdale, when she grows up.
Jackie's teacher, Elaine Morlan, also received accolades for Jackie's win, including an award, gift certificate to Zaner-Bloser and a trip to the International Reading Association Conference in San Antonio.
Dobbins received $1,200 in Zaner-Bloser gift certificates for writing materials, along with a certificate — handwritten, of course.