30 Mile Meal promotes regional food producers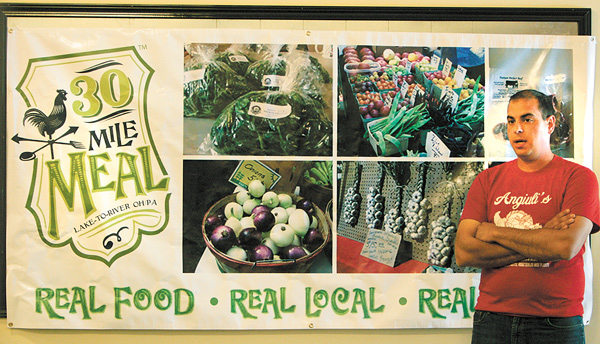 ---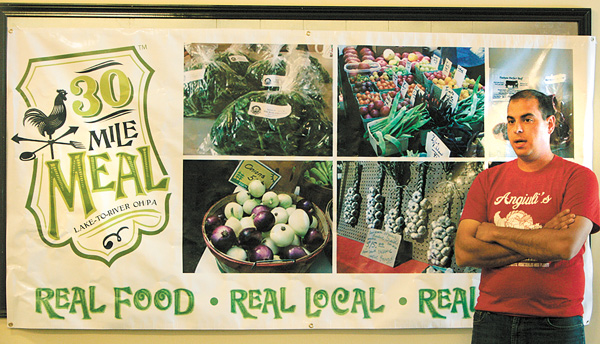 Photo
Carl Angiuli of Angiuli's Farm Market on Route 46 south of Canfield talks about fruits, vegetables and herbs grown at the family-run farm.
By LINDA M. LINONIS
north lima
A 30 Mile Meal event Monday introduced regional farmers to restaurant representatives so the two groups could put the supply and demand concept to better use on a regional level.
Goodness Grows, a faith-based food and farming ministry at Common Ground Church Community, 2310 W. South Range Road, hosted the gathering with Lake-to-River Food Cooperative, 30 Mile Meal and The Sprouted Table.
"30 Mile Meal is a local food promotion to get the word out about local farms and producers," said Christina Perry, 30 Mile Meal brand coordinator. "We want to educate people about what's available [locally] and connect farms to buyers."
Melissa Miller, marketing manager of Lake-to-River Food Cooperative, said her organizations helps "bring the local season to the restaurant table." The co-op, she said, promotes "eating to the area," promoting products from regional farms.
The restaurant representatives attending were of one voice about locally produced meat, poultry, fruits, vegetables and dairy — it's quality.
B.J. Sulka, general manager of Springfield Grille who was executive chef for 12 years, said, "It's all about quality. And you can't beat the freshness."
He pointed out that customers are more knowledgeable about food, so good quality is a must. Sulka said servers promote local farms by mentioning the local source of some products. "About 25 percent of the lunch and dinner menus are completely seasonal," Sulka said.
Michelle Wade, cook at The Lake Club in Poland, also endorsed the quality of local products. "When you know the person who grew it, there's accountability," she said.
Mark Canzonetta is director at the Culinary Arts Center in Boardman, which operates as restaurant three days a week and a recreational cooking site. "Local is about better products all around," he said. "I like knowing where the produce comes from."
He said he wanted to expand his local food sources.
On the other end, the farmers generally acknowledged growing was their forte not marketing. This event gave them the chance to show off what they have to offer.
Cheryl Haus and her daughter, Arin Milhalko, of Haus Orchards and Cider Mill in Canfield, talked about the mainstay of the business, cider. Haus said a farm market is open to the public from May 1 to Feb. 1 with asparagus and rhubarb available now. "We market to a few local restaurants," Haus said, adding the event gave the opportunity to increase that scope.
Carl Angiuli of Angiuli's Farm Market on state Route 46 south of Canfield said a second generation is farming 100 acres. "We like working the land," he said of the family-operated venture.
He said the event was a chance to showcase what the farm market has to offer local chefs.
Dandelion Lane Farm in Leetonia touts the "from-our-farm-to-your-table" concept in its list of eggs, flowers, herbs and vegetables available. Dawn Lichtenwalter said "natural growing" is practiced on the 11-acre farm.
Pasture Perfect Beef, a farming partnership between John and Judy Ligo of Grove City, Pa., and Russ and Crystal Carlson of Stoneboro, Pa., raises beef cattle using no growth hormones, steroids or additives. Crystal Carlson said about 500-600 Angus are in their herd. "We are working on marketing to local restaurants," she said.
Ed Gordos of Middlefied Original Cheese Cooperative in Geauga County said 59 small Amish farms are involved in the cooperative. He runs Western Reserve Foods that handles distribution and equipment. The co-op's lengthy list of cheese varieties is marketed in Cleveland and Columbus; Gordos saw the 30 Mile Event as a way to market the cheese in the Lake-to-River Food Hub.