Blue Devils keep rolling in ITCL Tier Two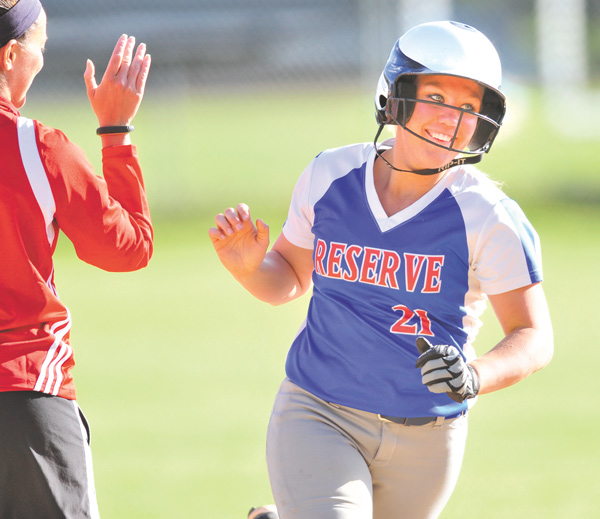 ---

Photo
Western Reserve's April Lude smiles upon receiving a high fi ve from her coach Laura Amero as she rounds third base after hitting a two-run himer in the fourth inning of Monday's softball game against Columbiana in Columbiana. The Blue Devils extended their win streak in the ITCL Tier Two to 79 with a 10-5 victory over the Clippers.
Big hits by Lude, Stubbs extend W. Reserve's streak
By Tom Williams
COLUMBIANA
When Columbiana's Khylea Fullum hit a two-run homer in the first inning, Western Reserve's five seasons-plus winning streak in Inter Tri-County League Tier Two games appeared to be in danger.
Blue Devils senior April Lude and junior Gabby Stubbs made sure it wasn't.
Lude hit two homers to drive in three runs while Stubbs had three hits, including a key two-run double, as Western Reserve (20-2, 13-0 ITCL Tier Two) defeated Columbiana, 10-5, on Tuesday in Firestone Park.
The victory was the Blue Devils' 79th straight in Tier Two play. It also clinched a share of first place for the Blue Devils. Before the game, the Clippers (18-7, 12-1) and Blue Devils had 12-0 league records.
"It's very exciting now," said Stubbs of the win. "It was nerve-wracking all day, just going through school, waiting for this game to come.
"It just feels good," Stubbs said after the Blue Devils pounded the Clippers with 16 hits.
The Clippers, who are in their first season in Tier Two, can share the league crown if they can defeat the Blue Devils in Thursday's 4:45 p.m. game at Western Reserve.
"We knew going in that they were going to be our biggest challenge," Stubbs said. "They replaced [Jackson-Milton] pretty much."
Jackson-Milton, Western Reserve's main rival in softball, is the team that replaced Columbiana in Tier One. They could meet in next week's district tournament.
With Blue Devils freshman Maddie Kreitzburg on the mound, the Clippers took charge early in the first-place showdown. With two outs in the first inning, Fullum launched a 2-2 pitch over the center-field fence.
In the third inning, the Blue Devils responded with their own big hits. Tory White and Lude led off the at-bat with singles. With one out, Stubbs doubled to tie the game at 2.
Stubbs described her mood as "level-headed."
"I didn't want to be too over-the-top or down myself from not getting on before," Stubbs said. "Seeing it miss the shortstop's [Marissa St. George] glove was cool."
She then scored on Jenny Stubbs' two-out double to give Western Reserve a 3-2 lead.
An inning later, White singled and Lude homered for a 5-2 lead.
Western Reserve coach Laura Amero said she chose Kreitzburg to pitch because it gives the Blue Devils their strongest defense.
"She has a lot of junk and good movement," Amero said of Kreitzburg. "She keeps the ball relatively low and that helps with the defense, to field grounders."
What did Amero tell her young pitcher after Fullum's homer?
"First we said, 'Don't feed them down the plate,' " Amero said. "It was a riseball that didn't rise very well. She took it well."
Of big hits, Kreitzburg said her goal is "to forget about it. My teammates are counting on me to make sure that I can get it right."
Lude, the shortstop who is one of the Blue Devils' other starters, told Kreitzburg "to brush it off, we've got [your] back.
"Our defense is [stronger] with Maddie pitching. She's really good, she's got talent," Lude said. "We have a solid infield and outfield — confidence everywhere."
Back-to-back doubles by the Clippers' Dakota DeAmicis and Madison Roessler sliced the lead to two runs in the fourth inning. The Blue Devils responded by scoring three times in their next at-bat.
Marley Oles and Sydney Miller had RBI singles and Brittney Lude hit a RBI double as Western Reserve opened up an 8-3 lead. Lude contributed a solo homer — her 12th of the season — in the sixth inning.