Leaving Bangladesh: no easy choice for brands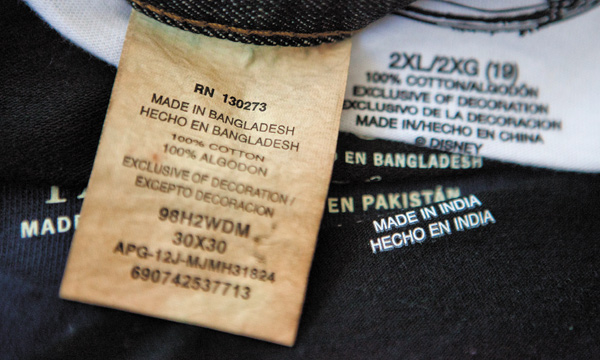 ---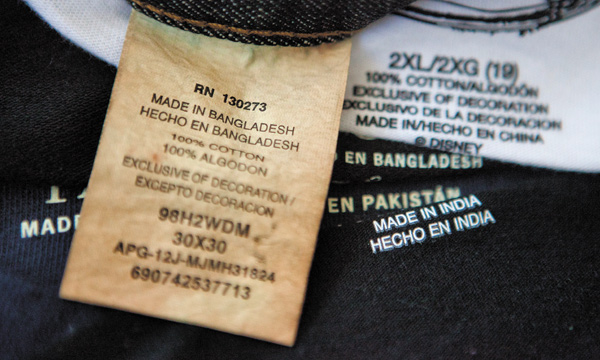 Photo
This illustration shows labels of garments made in Bangladesh, India, China and Pakistan that were bought at a Walmart store in Atlanta. Global clothing brands involved in Bangladesh's troubled garment industry responded in starkly different ways to the building collapse that killed at least 1,100 people. Some quickly acknowledged their links to the tragedy and promised compensation. Others denied they authorized work at factories in the building even when their labels were found in the rubble.
Associated Press
NEW YORK
Bangladesh offers the global garment industry something unique: Millions of workers who quickly churn out huge amounts of well-made underwear, jeans and T-shirts for the lowest wages in the world.
But since a building collapse April 24 killed at least 1,100 garment workers in Bangladesh in one of the deadliest industrial tragedies in history, the country has gone from one of the industry's greatest assets to one of its biggest liabilities.
"The risk factors have jumped off the charts," said Julie Hughes, president of the U.S. Association of Importers of Textiles and Apparel, a trade group that represents retailers who import garments. "This is worse than what anyone had imagined."
Working conditions in Bangladesh's garment industry long have been known to be grim, a result of government corruption, desperation for jobs, and industry indifference. But the scale of this tragedy has raised alarm among executives and customers.
The Facebook pages of Joe Fresh, Mango and Benetton, a few of the brands whose clothing or production documents were found in the rubble of the collapsed building, are peppered with angry comments from shoppers. Some warn they're going to shop elsewhere.
Retailers also are facing street protests. In the U.S., university chapters of United Students Against Sweatshops are helping to stage demonstrations against Gap in more than a dozen cities including Seattle, Los Angeles and New York. The group plans to target other retailers it believes are not committed to stricter standards for Bangladeshi factories.
The rising death toll may force Western brands to make a choice: Stay and work to improve conditions. Or leave and face higher costs, similar or worse worker conditions in other low-wage countries and criticism for abandoning a poor nation where per-capita income is just $1,940 per year.
Most retailers have vowed to stay and promised to work for change. Wal-Mart and the Swedish retailer H&M, the top-two producers of clothing in Bangladesh, have said they have no plans to leave. Other big chains such as The Children's Place, Mango, J.C. Penney, Gap, Benetton and Sears have said the same.
"Today's economy is global, and it is not a question of if a company like H&M should be present in developing countries," said Anna Eriksson, H&M spokeswoman. "It's a question of how we do it."
But for some, the risk of being in Bangladesh has become too great. The Walt Disney Co. announced this month that it is stopping production of its branded goods in Bangladesh.
"These are complicated global issues, and there is no one-size-fits-all solution," Bob Chapek, president of Disney Consumer Products, said in a statement.
Industry experts predict others will quietly reduce their dependence on the country.
Meanwhile, Bangladesh's government plans to raise the minimum wage for garment workers, a Cabinet minister said Sunday, after the recent tragedy focused international attention on the textile industry's dismal pay and hazardous working conditions.
A new minimum-wage board will issue recommendations for pay raises within three months, Textiles Minister Abdul Latif Siddiky said.