Chilly temps add to triathlon challenge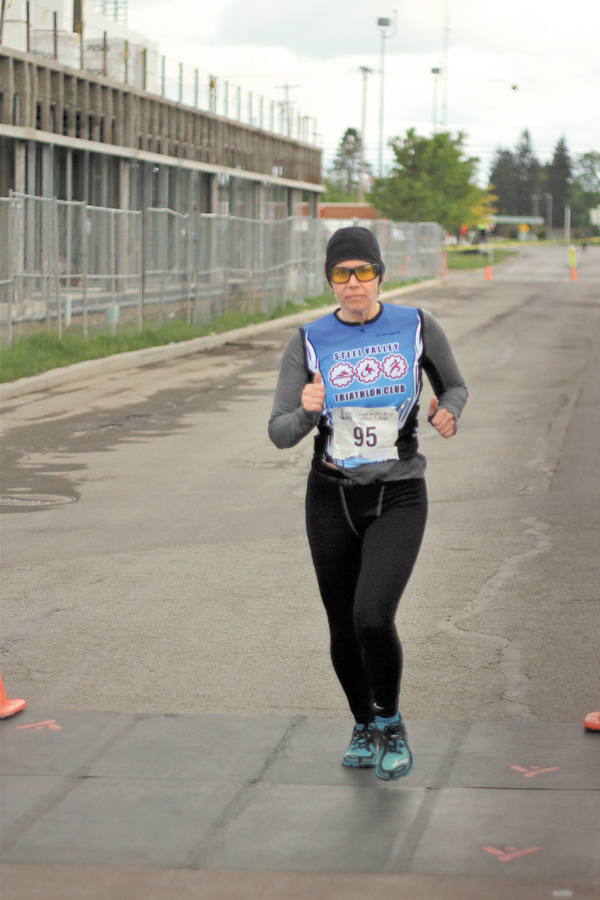 ---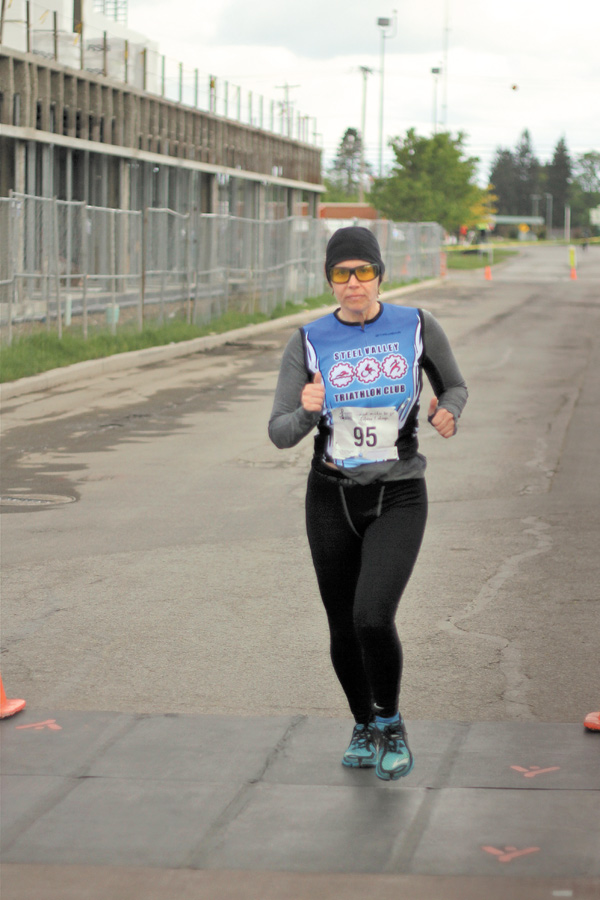 Photo
Kathleen Dearing of Poland crosses the finish line after running a 5K to finish off Sunday's triathlon at the YMCA in Boardman.
By Steve Wilaj
BOARDMAN
After completing the opening swim and 14.5-mile bike ride of the ninth annual Spring Classic Sprint Triathlon on Sunday morning, only a 5K run stood between Caitlin Glenn and the finish line.
But there was one problem.
"Going from biking to running, my feet were completely frozen," she said.
Like Glenn, all 110 participants in the triathlon — which began at the Davis Family YMCA in Boardman before spilling into the surrounding area — battled the chilly temperatures and harsh winds.
Still, that couldn't dampen the positive feelings of an event that saw a successful turnout in an effort to raise money for the YMCA's Strong Kids Campaign. All proceeds went toward providing financial assistance to underprivileged youths, families and individuals.
"The turnout was real well," said Joshua Winters, race director. "We had a little more than last year, so we're growing and moving in the right direction. With beginners to semi-professionals, we just try to make it a fun time for everybody."
Glenn certainly enjoyed herself, as the Lisbon native took first place in the women's division with a time of 1:16:28.
"I just really like this one because it's smaller and in a good community," said Glenn, 24. "I like when my parents can come, because with a lot of the big ones it's hard for them to always get there, even though they do. So I really just like the small atmosphere of this race."
However, as most participants would agree, Glenn didn't find the weather as pleasant.
"The cold was the major thing," she said. "Swimming, when I lifted my arm out of the water, I could feel how cold it was. Then the bike, my legs were freezing and I couldn't feel my feet. And it was super windy."
Eric Angstadt of Pittsburgh, who won the men's division and recorded the best overall time of 1:06:02, agreed.
"The wind definitely made the bike a little challenging and the cold weather added a different element that I'm not normally used to," he said. "But you have to race the course and come out ready."
The first-place finish also marked Angstadt's first victory.
"It's been a long time coming and I'm glad the way it came out," he said. "It was a good event. It was cold and the conditions were kind of rough for the first couple of miles, but other than that it was well run."
The event awarded winners in age groups from 16-19 to 60 and older. There were also team relay winners as well as a friendly competition between the Steel Valley Triathlon Club and the Pittsburgh Triathlon Club, won by Pittsburgh.
"We put on this event as an introduction to triathlons," Winters said. "We have a triathlon skills class that starts early in the year and it builds to train beginners for this event. So we try to engage everybody. We get the community to help out with sponsors and volunteers, and it's for a good cause."