Niros celebrate 50th milestone in their marriage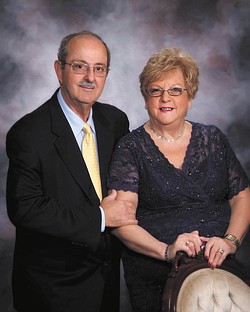 Photo
POLAND
Gus and Emma Niro of Poland were honored April 20, their 50th wedding anniversary, during a Mass and dinner hosted by their children, their spouses and their grandchildren at St. Nicholas Church in Struthers and Cafe 422.
Their children are Lena Niro, Deb (Paul) Guzman and Michael Niro, all of Poland; and Domenic (Gina) Niro of North Royalton.
The couple's grandchildren are Anthony and Carmela Guzman and Dominic Niro.
Mrs. Niro is a self-employed seamstress in Poland.
She is a member of Pacentrani Club Ladies Auxiliary and has belonged to a bowling league 48 years.
Mr. Niro retired in 1993 as owner of Niro's Forklift Service in Youngstown.
He is a member of Castel B Italian Men's Club and was a member of Mahoning Valley Old Car Club (1992 to 2012).
He served in the U.S. Army.
The Niros were married April 20, 1963, at St. Nicholas, where they are members.