Cardarellis mark 60th anniversary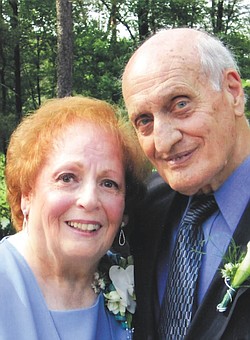 Photo
Mr. and Mrs. Anthony Cardarelli
YOUNGSTOWN
Anthony and Eleanor Cardarelli of Youngstown celebrated their 60th wedding anniversary at a dinner with invited guests May 11 at Caff Capri Restaurant, Boardman.
Hosting the celebration were the couple's children and their spouses: Daniel Cardarelli of Boardman, Jennie (Donald) Sebastian of Columbus, and Diane (Bob) Carbon of Canfield.
The Cardarellis have seven grandchildren: Lisa, Lucia (Jim) and Danielle Cardarelli; Stefanie and Alyssa Sebastian; and Bobby and Marissa Carbon; and one great-granddaughter, Isabella.
Mr. Cardarelli and the former Eleanor Ciolli exchanged vows May 16, 1953, at Sacred Heart Church.
They are members of St. Luke Church, Boardman.
Mrs. Cardarelli works as a secretary for Youngstown Board of Education and at Rulli Brothers. She is a member of the Ladies of Charity.
Mr. Cardarelli owned L&R Sporting Goods and then worked for Hearn Paper before retiring in 2005.
He belongs to the Youngstown Morra League and was a member of the Vagabond Club.
He graduated from Heidelberg College in 1954.