Miss Henry, Mr. Mancini are engaged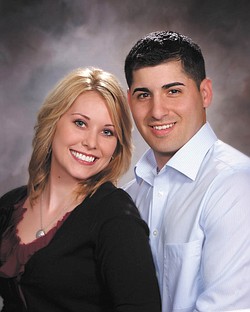 Photo
Rebecca M. Henry and Michael A. Mancini
POLAND
Leo III and Susan Henry of Poland are announcing the engagement of their daughter, Rebecca Marie Henry, and Michael Anthony Mancini, both of Poland.
Parents of the future groom are Anthony and Dee Mancini, also of Poland.
The couple will exchange vows at 1:30 p.m. Aug. 10 at Holy Family Church. An evening reception will follow at the Lake Club. Invitations will be issued for both.
The bride-elect received a degree in esthiology from Casal Aveda Institute. She is the owner of Advanced Esthetics in Poland.
The prospective groom is owner and operator of Sharp Cut Lawn Care in New Middletown.