Woodside third-graders prep for big test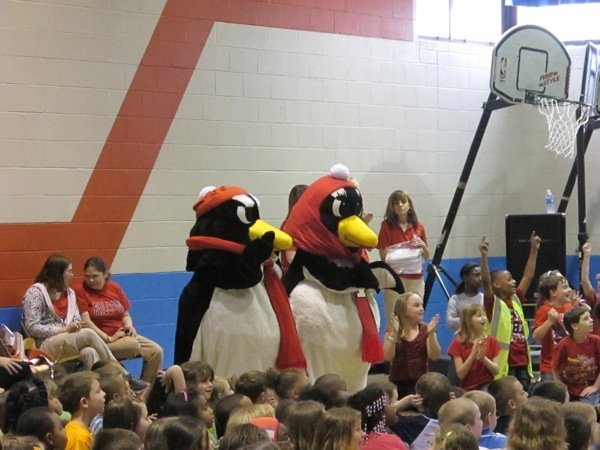 ---
By NATALIE SCOTT
Woodside third-graders were the stars of day during an April 19 rally to show support for their upcoming OAA tests.
The third-graders came into the assembly to cheers and dancing to Katy Perry's "Fireworks." Woodside principal Dennis Rice spoke to the students about the importance of the OAA test, which all third-graders would take just a few days after the rally.
To show their support, several visitors made an appearance at the school, including three football players from the Austintown Fitch football team, members of the Fitch cheerleading squad, Youngstown State University mascots Pete and Penny Penguin, the Chick Fil-A cow, and a few of the Youngstown Phantoms hockey promotion girls.
Classes from each grade showed their support by making encouraging signs, such as "You Are Stars," "Learning for Life." and "Have a Jolly Attitude on the OAA."
The third-graders performed several songs to encourage excitement for the OAA tests. Some of the songs at the rally were takes on "I Will Survive" by Gloria Gaynor and "YMCA" by The Village People.
The rally ended with a third-grade parade around the gymnasium for high fives and candy.