South Range bats pummel McDonald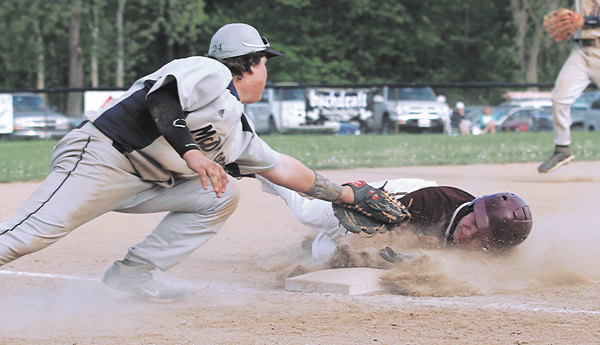 ---

Photo
South Range baserunner Turner Curry avoids the tag by McDonald third baseman Mike Soots during the sixth inning of their baseball game Thursday at McDonald High School. The Raiders battered the Blue Devils 26-10.
By Steve Wilaj
McDonald
For the past two years, the South Range Raiders have dominated the upper tier of the Inter Tri-County League. After going 13-1 last season, the Raiders went 14-0 this season for another first-place finish.
With that accomplishment in hand, South Range head coach Jim Hanek said his team's focus was shifted in a different direction.
"We wrapped up our league and now we're prepping for the tournament," he said.
As part of that preparation, the Raiders pounded out 21 hits in defeating McDonald, 26-10, on Thursday.
Pounding out 21 hits, the Raiders defeated McDonald, 26-10, to claim a 14-0 ITCL record while improving to 19-3 overall.
"Our bats really came alive today," South Range head coach Jim Hanek said. "We hit the ball solid. Just like all year, we were very patient at the plate and when we jumped out to a nice lead, it made it very easy playing out in front."
The Raiders led 13-1 after two innings and 16-4 after three innings.
McDonald starting pitcher Garrett Mulrooney went three innings.
"He has a good fastball and I thought we might be in for a tough ballgame from that perspective," Hanek said. "He threw well, but we just came out with the sticks."
While McDonald head coach Matt Vukovic acknowledged the Raiders' offensive firepower, he noticed something else that doomed his Blue Devils (16-4).
"There were a lot of hits that they had that just fell in where people weren't," he said. "Sometimes it was just a matter that we couldn't get to it. I guess it was a combination of us not pitching well and them hitting ones that counted."
For good measures, South Range (19-3) added nine more runs in the sixth inning, keyed by a two-run homerun by Ryan Miller. He led the Raiders with three hits and four RBIs. Dan Macinga, Tyler Rothbauer and Cory Deal also added three hits apiece.
Zach Thorpe, Bill Goodall and D.J. Melnich all had two hits for the Raiders. Macinga also had five RBIs.
"We swung the bats well all year and this is just one of those games," Hanek said. "Both teams hit the ball though, with 30-some hits between the teams."
McDonald cranked out 15 hits, paced by four from Mike Raschilla. Cameron Ifft, Mike Schuller, Ben Carkido and Tim Roberts each added two. Ifft homered as well.
The Blue Devils will play Lordstown in a Division IV sectional opener Wednesday.
"We've been hitting the ball really well," Vukovic said. "Hitting-wise we're pretty sound and our starting pitching — up until today — has been really strong. So I think we're strong with our arms and hitting the way we need to heading into the tournament."
South Range will play the Brookfield-LaBrae winner in a sectional final Wednesday.
"I told the guys, 'We're looking to be rolling full steam ahead heading into the tournament,' " Hanek said.