SJIHM science club presents skits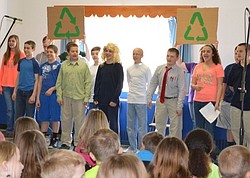 Photo
Neighbors | Submitted .Members of the SJIHM science club, from left, Lexxi Haluska, Brendan Faloon, Brandon Freer,Joey Koewacich, Richard Wolfe, Jack Chepke, Ryan Kopcial, Colgan Knox, Jon Marshall and Andrew Siembeda chant the recycling chant.

Photo
Neighbors | Submitted .Colgan Knox and Jack Chepke performed the Earth Day skit at the Austintown Trustee meeting.
St. Joseph Immaculate Heart of Mary's Science Club is open to any seventh or eighth-grade student who wishes to learn more about science and the environment.
Students meet after school once a month with their adviser, Sharon Nicastro, where they explore science experiments and monitor the school's recycling of paper, aluminum cans, printer cartridges and cell phones.
Their year ends with Earth Day skits presented to the entire student body to promote recycling. This year's skit involved "Mom," "Dad" and "their kids" approaching township trustees after the kids had seen a vacant lot full of litter. The "kids" presented skits to prove to the trustees the need for a playground on that lot and how to encourage recycling.
Each mini skit ended with the chant "Change a bad habit. How do you make it good? Don't let it drop — recycle it, and put it where you should."