North movie night for mothers and sons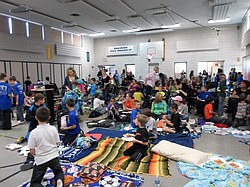 Photo
Neighbors | Submitted.Students and their mothers watched "Rise of the Guardians" in the school gymnasium at the North Elementary School movie night April 26.

Photo
Neighbors | Submitted.Pam (left) and Teagan McCurdy are shown eating pizza at the Mother and Son Movie Night at North Elementary School April 26.
By NATALIE SCOTT
North Elementary School offered a movie night for moms and sons at the school April 26, a tradition that alternates with a father-related event and has been a North favorite for more than 10 years.
"This event is PTO planned and happens every other year. The father events can be any number of things, but the mother-son night is always a movie night," said Diane Kluchar, the PTO chair for the event. "Besides the movie, the mother-son movie night also provides pizza, popcorn, drinks and the opportunity to buy ice cream treats. The school Relay for Life team also sells candy to help raise money during the movie night."
More than 140 people attended the movie night, which was a screening of Dreamworks' "Rise of the Guardians." A raffle winner at the end of the night won a copy of the movie.
"It's nice to be able to be with your child one-on-one," said Liz Klase, the president of the PTO at North Elementary School. "I have come to this event with both my daughter and my son before and it is a really great night out."
Many students were glad for the opportunity to spend time with their mothers, as well.
"I really like coming here with my mom," said Dominic Klase. "It's fun, being able to spend time with her and watching the movie."