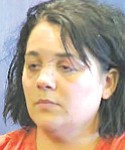 Barletto headed back to Pa. to face charges in cop's death
Published: 5/10/13 @ 12:10
The woman is charged in connection with a car accident that killed a police officer.
YOUNGSTOWN
The woman charged after an accident that killed a Shenango Township police officer while on duty is now headed back to Pennsylvania for her day in court.
Kylee Barletto, 26, of New Castle, Pa., is accused of fleeing from police May 2 when her vehicle hit a patrol car containing Officer William J. McCarthy IV, who was killed.
Barletto was released Monday from St. Elizabeth Health Center in Youngstown to Mahoning County jail to await her extradition to Pennsylvania.
An extradition hearing took place Thursday afternoon before Judge James C. Evans of Mahoning County Common Pleas Court. Barletto, flanked by a half-dozen county deputies and her attorneys, Michael Kivlighan of Youngstown and James Ecker of Pittsburgh, was before the judge for about five minutes and chose to waive her right to the hearing.
Judge Evans ordered Barletto to return to the county jail, where she is to be picked up by Pennsylvania authorities no later than Monday.
Barletto appeared distraught throughout the brief hearing and said little. She answered each question from the judge with a simple "yes, sir" or "that is correct, sir."
Ecker said Barletto has a broken nose, broken ribs and a damaged leg.
"We feel very badly about the two officers in the accident, and I feel bad for my client. ... She is extremely upset," Ecker said. "She is in very bad shape. ... Today, downstairs [in the courthouse] she was crying hysterically. She is not a happy camper at all."
The criminal complaint against Barletto says a New Castle police officer began chasing her about 9:50 p.m. after he saw her nearly rear-end a vehicle and swerve into another lane.
Other city police joined the chase, during which Barletto purportedly ran several stop signs before crashing the car she was driving broadside into a cruiser driven by Shenango Township Police Officer Michael Lynch, with McCarthy as a passenger, at Warren Avenue and Cascade Street.
Lynch went to Jameson Hospital in New Castle for treatment of head and other injuries.
Barletto is charged with manslaughter of a law-enforcement officer, homicide by vehicle, fleeing and eluding involving death, involuntary manslaughter and reckless endangerment.
Ecker said he expects the first hearing on those charges before a Pennsylvania judge to be sometime next week.
Don't Miss a Story
Sign up for our newsletter to receive daily news directly in your inbox.