Liberty students tour city hall, downtown
---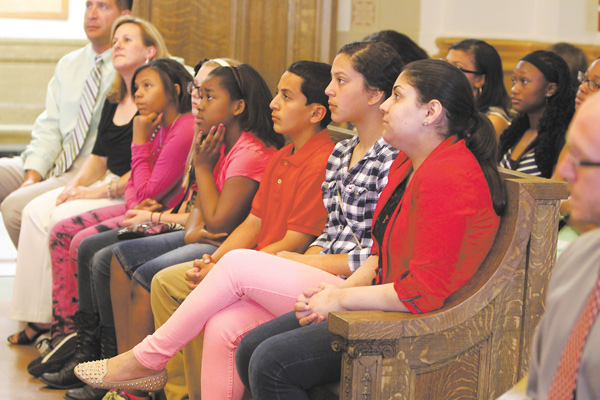 Photo
Students from W.S. Guy Middle School's student council, grades five through eight, got a close-up civics lesson from Youngstown Mayor Charles Sammarone and his staff in city council chambers Thursday morning. Principal Judd Rubin and Marla Dull, student council adviser, led the field trip for the Liberty students.
By Josh Stipanovich
Youngstown
A group of about 22 student-council members from W.S. Guy Middle School in Liberty visited Youngstown City Hall and the downtown area as a part of an effort to get students more involved with the community.
"It was a trememdous experience," school Principal Judd Rubin said. "If [the students] have political aspirations or they plan on staying here, they could see how things in the city are run. ... It maybe could spark an interest in them in something they could pursue when they get older."
Youngstown Mayor Chuck Sammarone kicked the morning off with a speech in council chambers about his path to the mayor's office and his past as an educator along with the different departments of city hall and how they work.
"Young people are our future, and the more knowledge they have about government, the better decisions they can make," Sammarone said.
Sammarone took questions from the students after his speech, and they touched on several points, such as crime in the city, the city's future and the growing issue of vacant homes.
Law director Anthony Ferris, parks director Robert Burke and deputy director of Public Works Chuck Shasho also spoke to the students.
"We were excited to come down and have this opportunity because the students can connect with how we run our meetings ... to compare on how they run on a governmental level," Guy Middle School student council adviser Marla Dull said.
Eighth-grader Ahmad Amireh said he couldn't wait to take advantage of the opportunity.
"We just had to get a better understanding of how everything runs," Amireh said. "You just get a good feeling for Youngstown."
Rubin and Dull also took the students on a tour of Federal Street. They visited Turning Technologies and had lunch at the Avalon Downtown pizzeria.
The student council already has taken on several community-service projects, including food drives, Jeans for Teens and Coins for Kids.