Lakeview's boys, McDonald's girls win Trumbull titles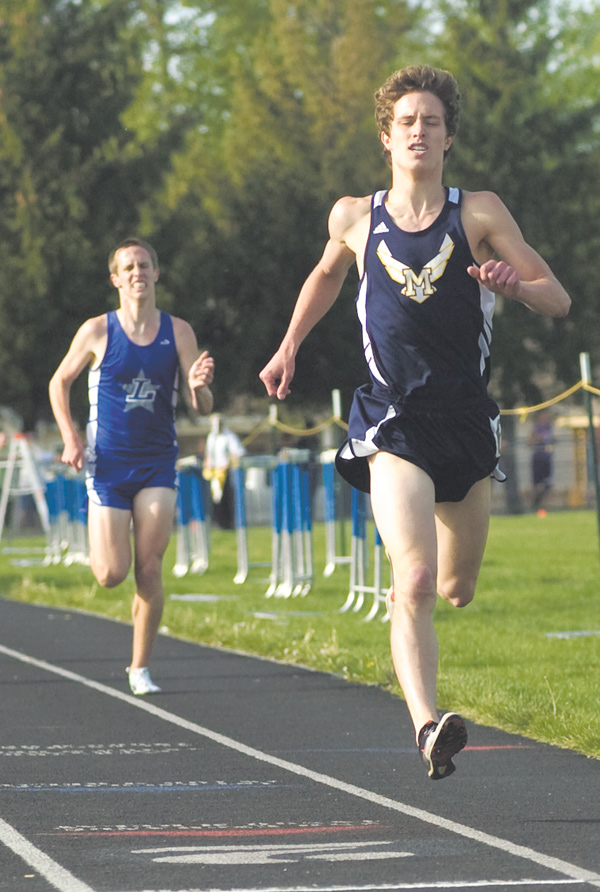 ---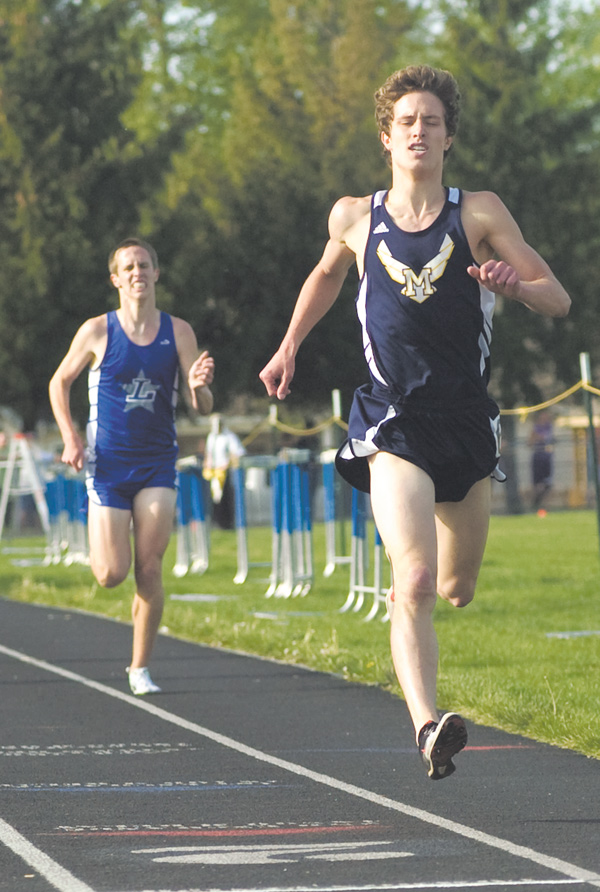 Photo
Patrick Kunkel, a senior from McDonald High School, leads the second heat of the boys 1,600-meter run during the Trumbull County Track and Field Meet on Thursday at Lakeview High School in Cortland. Kunkel took first place and also was named running MVP. Team honors went to Lakeview boys and McDonald girls.
Lakeview, McDonald claim Trumbull titles
By Joe Scalzo
cortland
It started with a bump. It ended with a fist pump.
Lakeview High boys track coach Mark Swinning was sitting in the stands watching the end of the 4x100-meter relay at Thursday's Trumbull County finals when he saw "something that looked like a mini-train wreck."
Warren Harding — which had the fastest relay in the stadium (and arguably the best track team, too) — collided with Howland (which had the second-fastest relay) on the final exchange. The Raiders dropped the baton and anchor Keemari Murray landed face first on the track.
Harding got disqualified, Howland took seventh and Lakeview took first, picking up 10 very surprising — and very welcome — points.
"I knew right then we had a shot [to win it all]," Swinning said. "We knew we had a lot of work to do, but we knew we had a shot."
The Bulldogs didn't win another event. They didn't need to.
Thanks to its depth, its 1-2 finish in Tuesday's pole vault (Girard is the only other county team to compete in that event, a huge points advantage) and its fifth-place finish in the 4x400 (prompting Swinning to pump his fist and scream "Yes!"), Lakeview squeaked out 87.5 points to best Harding (84) and Howland (81) for the county crown.
"I think that [4x100] really fired up a lot of guys to step up and compete," Swinning said. "I had people running personal-best times all over the place.
"It was phenomenal."
Warren JFK sophomore Chad Zallow earned meet MVP by winning the 110- and 300-meter hurdles, placing second in the 200 and helping the Eagles finish fourth in the 4x400 relay.
He was named MVP at this meet when he was in middle school and said it was his goal to do it again this year.
"I'm going to try to get it again my junior and senior year," he said. "This meet is a good [preview] for states and districts and regionals. I want to see what I can do, see what I need to work on."
McDonald senior Patrick Kunkel earned running MVP after winning the 1600, placing second in the 800 and running in the second-place 4x400 and third-place 4x800 relays.
Maplewood junior Stephen Pop was field MVP after winning the discus and placing second in the shot.
On the girls side, McDonald junior Jai'Lyn Mosley won the shot and set a meet record in the discus to earn field MVP and help the Blue Devils (115 points) edge Girard (107.83) for the team title.
McDonald's strength is in the distance and throwing events, but head coach Mary Domitrovich said it was the little points in the other events that added up to the win.
"We got a tremendous team effort from every area of the team," she said. "They set the tone [on Tuesday's first day] and did what we needed to do to get so many people in the finals. And they competed to their capabilities."
LaBrae senior Megan Gunther, a Youngstown State recruit, won the 100 hurdles in 14.84 (eighth-hundredths of a second off the meet record) and also won the 300 hurdles, placed fourth in the 200 and helped the Vikings take seventh in the 4x100 relay to earn meet MVP.
"Oh my gosh, it was unbelievable in the 100s; I just wanted to cry," said Gunther, who battled a back injury for much of this season. "I've never felt that fast before.
"It's definitely a good day. I'm definitely peaking at the right time."
Warren Harding freshman Justice Richardson didn't pile up as many points but she may have had the best meet of anyone, winning the 100 and 200 and anchoring the winning 4x100 and 4x200 relays to take home running MVP.
"It feels great to see all my hard work pay off," said Richardson, whose father Matt played football at YSU from 1995-98 and whose mother Janell ran track at Howard. "I've practiced really hard, my coaches push me, my family supports me and my friends were all at the track meet.
"I knew if I did what I knew I could do, I could win."