YOUNGSTOWN PLAYHOUSE "Legally Blonde" bombshell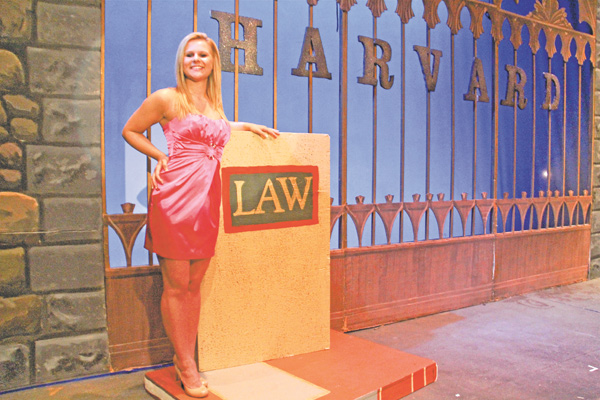 ---
If You Go...
What: "Legally Blonde, the Musical"
Where: The Youngstown Playhouse
When: Friday-Sunday and May 17-19; 7:30 p.m. Fridays and Saturdays, and 2:30 p.m. Sundays
Tickets: Call 330-788-8739 for reservations, or go to theyoungstownplayhouse

Photo
Lindsay Stevens of Canfield plays the lead character, Elle Woods, in the Youngstown Playhouse's production of "Legally Blonde, the Musical."
By GUY D'ASTOLFO
YOUNGSTOWN
The movie "Legally Blonde" played with audience expectations.
Elle Woods, the lead character, was beautiful and blonde and bubbly, and therefore — under the law of stereotypes — was also supposed to be shallow and dim. But the character, played by Reese Witherspoon in the 2001 film, was neither. She had depth, and was able to see the shallowness in others.
Now comes "Legally Blonde, the Musical," which will make its Mahoning Valley premiere Friday at the Youngstown Playhouse.
Director Bernie Appugliese expects that audience expectations will again be a key to the production's appeal. It might not be what you expect, he said.
The stage version is huge in every aspect and, in Appugliese's words, moves like a speeding train.
With a gigantic cast of more than 30 and a seven-piece ensemble, the musical is nearly sung-through and features huge choreographed numbers. A multitude of sets have been constructed and will drop in via the theater's fly system, oftentimes in mid-song.
In short, there is no let up.
To Appugliese, that's the only way "Legally Blonde" can be done.
"You can only do it big," said the director during an interview this week, after climbing down from a catwalk where he was positioning spotlights. "It would fail if you tried to do it small." The community-theater rights to "Legally Blonde" — a hit on Broadway and the West End that spawned a successful tour — became available two years ago, and the Playhouse snapped them up. The musical has already become one of the most-produced works at high schools nationwide.
Nick Samson, musical director, agrees with Appugliese about the musical's magnitude.
"Everything in this show is big," said Samson. "There is nothing subtle. Every number sounds like the finale ...The sheer spectacle of it is what made it so big on Broadway."
When the movie was adapted to the stage, it replaced chunks of dialog with musical segments that move the story while covering a lot of ground.
It's during such segments that set changes will drop in and out, in full view of the audience. "We can't have [stage] blackouts when there is this much energy on stage," said Appugliese. "It would be unfair to the audience and the cast to stop the action."
Kayla Boye is the choreographer.
"Legally Blonde" follows the travails of a blonde sorority queen, who gets dumped by her boyfriend and then follows him to law school to win him back. But while at Harvard, she discovers she has more to offer than she ever imagined.
Playing the lead role is Lindsay Stevens, a Canfield High School junior making her Playhouse debut.
The entire cast is too big to list but it also includes Joshua Green as Warner Huntington III, Carla Gipson, Emelia Sherin, Ashley Balas, Rayshone Oliver, Kristopher Ray North and Tyler Clark. There are also two real dogs.
Appugliese said that vocally, it's one of the strongest casts he's ever seen at the Playhouse.
Because "Legally Blonde" is such a tidal wave of a show, Appugliese and his staff searched actors who could match the energy. "We had to find people who wanted to do it, who could see the bigness in it," he said.