Becky Wall is 2013 campaign chairwoman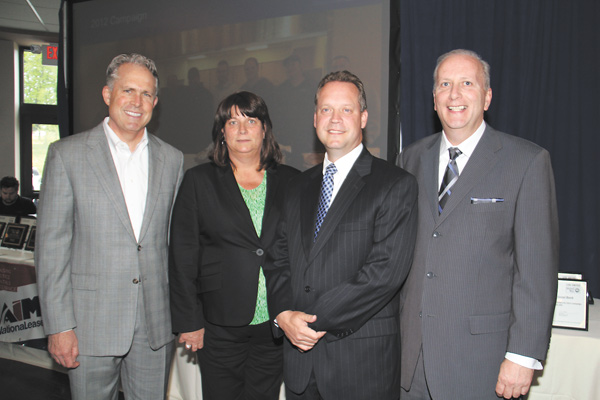 ---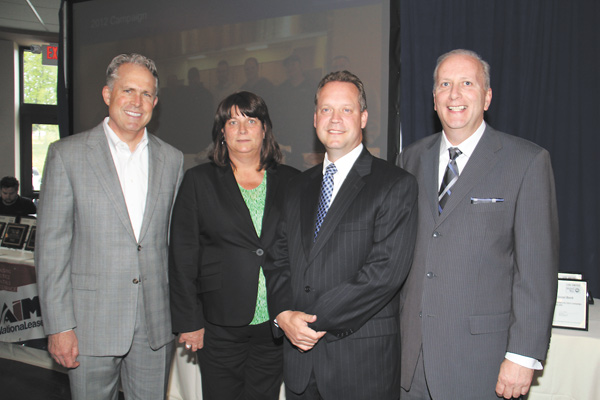 Photo
Greg Greenwood, owner of Greenwood Chevrolet in Austintown, left, received the Community Partner Award on Wednesday at the annual meeting of The Community Corp., United Way's parent, at The Lake Club in Poland. Also attending the meeting were, from left, Becky Wall, 2013 campaign chairwoman; Theodore Schmidt, 2012 campaign chairman, and Robert Hannon, United Way president.
POLAND
Edward W. Muransky challenged businesses and individuals to step up in the community and raise their giving to the United Way of Youngstown and the Mahoning Valley.
"We have to get to the kids, and that fits the goals of Muransky Companies and the United Way," said Muransky, speaking Wednesday at the annual meeting of The Community Corp., parent organization of the United Way of Youngstown and the Mahoning Valley.
The event, sponsored by Anthem Blue Cross and Blue Shield at Muransky's The Lake Club, included recognition of donors and volunteers.
Also, Becky Wall, vice president of Dearing Compressor and Pump Co. in Youngstown, was announced as chairwoman of the United Way's 2013 financial campaign.
Wall succeeds Theodore M. Schmidt of PNC Bank, who headed the 2012 financial, which exceeded its $2.5 million goal in a tough economy.
Robert Hannon, United Way president, praised Schmidt for his hard work and dedication and PNC's involvement on many fronts with the United Way. Hannon said Schmidt met weekly with the United Way staff and campaign leaders to ensure it was on track.
"The agencies that United Way funds are the key. If they weren't doing good work, people wouldn't give," Schmidt said.
Muransky also challenged people to continue to be philanthropic.
There is no better place in the world than Youngstown if someone needs help, he said.
Hannon recognized the donors and volunteers and the four companies and their employees that raised $10,000 or more for the 2012 campaign: Compco Industries, Inc.; General Motors Lordstown Complex and its United Autoworkers Locals 1112 and 1714; Dearing Compressor and Pump Co., and Hynes Industries Inc.
Special volunteer awards were presented to Laura A. Lyden, operational manager of the Lyden Oil Co., Impact Service Award; Rick Fryda, president and CEO of Compco Industries, Campaign Service Award; and the Western Reserve Building Trades Council, represented by its president, Don Crane, the Labor Leadership Award.
"The credit goes to the volunteers in the community. We need to keep supporting the United Way," Fryda said.
"I wouldn't do this if I didn't believe in the United Way," Lyden said.
Members of Building Trades Council donate one cent per hour worked toward United Way. In 2012, that totalled more than $30,000, Crane said.
United Way funds programs in four impact areas: In 2012, education received $343,312; income, 218,278; health, $373,439; community support services, $535,209, and community partnerships, $86,262.