Plan for the worst, YSU presidential finalist says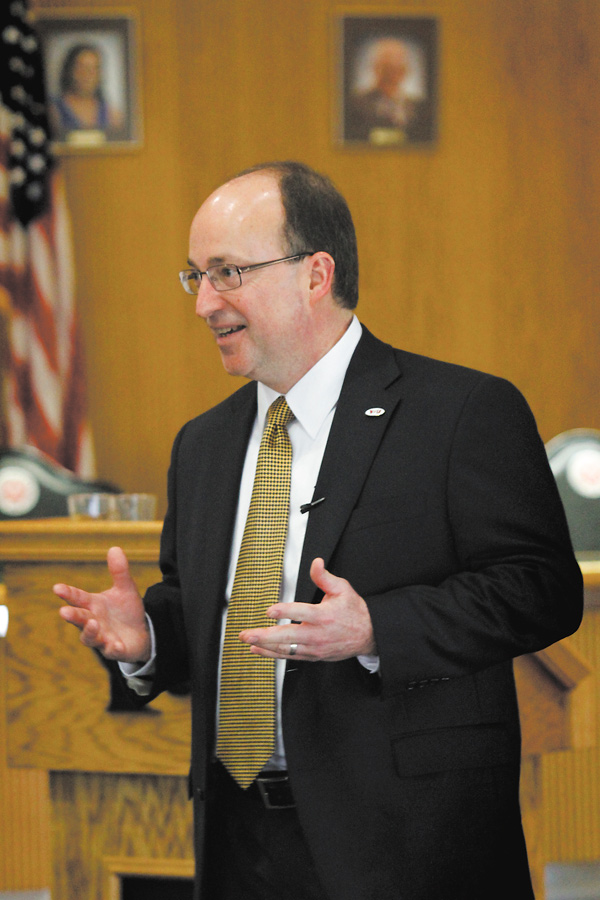 ---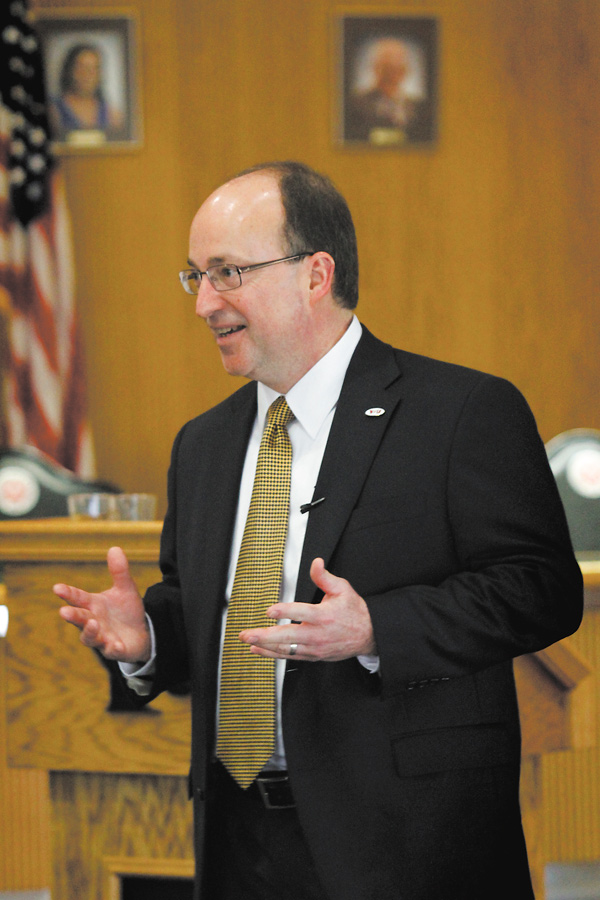 Photo
William R. Decatur, a finalist for Youngstown State University president, talks Wednesday in an open forum on campus.
By Denise Dick
Youngstown
Youngstown State Univer- sity needs a long-term solution to address declining revenue and enrollment.
For the past couple of years as enrollment has decreased, YSU has relied on unfilled vacancies to help make up the difference.
"That's not a long-term solution," said William R. Decatur, vice president for finance and administration, chief financial officer and treasurer at the Rhode Island School of Design in Providence.
Decatur, 55, and an attorney, was the last of three finalists for Youngstown State University president to visit campus. He spoke Wednesday in open forums with faculty, students and others from the university before an evening invitation- nly forum with community members.
YSU trustees are to meet Friday and may decide on the next president.
Decatur said he isn't being critical of anyone at YSU — other universities and even he have relied on one-time strategies to address funding shortages.
But YSU needs to identify potential budget cuts that could be implemented if enrollment doesn't increase this fall, he said.
"You need to plan for the worst and work for the best," Decatur said.
Decatur, a native of Euclid, also worked as senior vice president for finance and administration at Ohio University in Athens and as executive vice president for finance, technology and operations at the University of Toledo.
His tenure at Toledo included 13 months as interim president. He also worked at Georgia State University in Atlanta and Shawnee State University in Portsmouth, Ohio.
Students Caroline Standohar of Girard and Catie Carney of Poland attended the student forums with all three finalists.
"Each of the three have different strengths," said Carney, a junior political science and math major. That makes it difficult to compare the three, she said.
The first finalist, Randy Dunn, president of Murray State University in Murray, Ky., was very "approachable and personable," said Standohar, a sophomore marketing management major.
Carney said Decatur has a lot of experience in management and "if you give him a plan, he can execute it."
The second finalist to visit campus, James Moran III, vice chancellor for academic and student affairs at the Pennsylvania State System of Higher Education in Harrisburg, focused on student success and retention, other students said.
Carney said it's important that YSU's next president see the university's potential.
"YSU is in a transitional phase," she said. "It's becoming more of a destination university."
Decatur said stabilizing and even growing enrollment has to be the first order of business.
"Recruitment and retention has to be everyone's job," he said.