Rubenstein has painful, but prized souvenir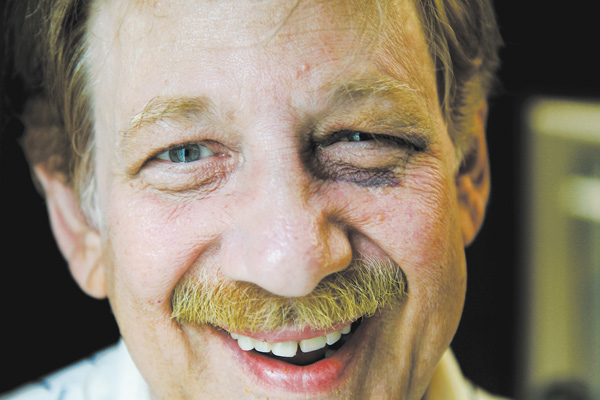 ---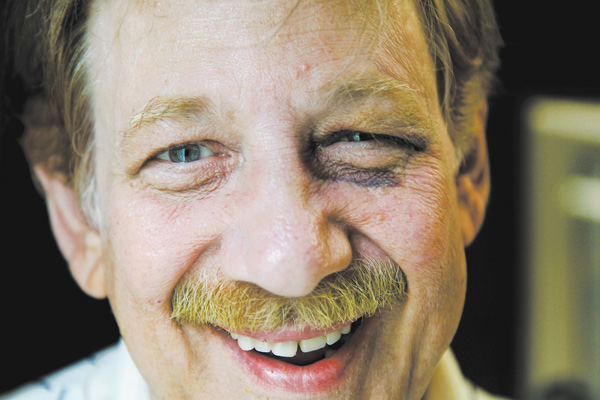 Photo
Area businessman and longtime Twins' fan Vic Rubenstein came back from Friday's Cleveland-Minnesota game with an painful souvenir — a black eye courtesy of Minnesota first baseman Justin Morneau.
By Joe Catullo Jr.
YOUNGSTOWN
Sitting at a booth in the West Fork Roadhouse on Belmont Avenue, Vic Rubenstein eats lunch alongside Jordan Thomas, an assistant account manager for Rubenstein Associates.
He asked earlier for a window seat so he can watch his dog, Harvey, rest on the passenger side of his van with the air condition blasting. He orders a grilled chicken salad even though he normally gets a hamburger. For dessert, he drinks two cups of coffee, black with no cream.
He wears a suit with a yellow tie. He brought with him two souvenirs from Friday's game at Progressive Field: a black left eye and a gray imprint in the shape of a baseball on his right hand.
Rubenstein reminisced the entire time his love for the Minnesota Twins and his history with the club. When he told his stories, his smile never left. When he talked about how he got the black eye, his smile widened.
"It's just wonderful because everybody asks me where I got it, and I get to tell them this great Justin Morneau story," Rubenstein said.
Rubenstein attended Friday night's game between his beloved Twins and the Cleveland Indians. He took Thomas, her father and longtime friend Thom Foley to the stadium. They watched from Section 142, three rows behind the Twins' dugout. Rubenstein sat in seat 10.
It was the bottom of the seventh inning when Ryan Raburn grounded out to third baseman Trevor Plouffe to end the frame. When the Twins jogged to the dugout, children stood and screamed for Morneau to throw them the baseball.
Instead, the 2006 American League MVP spotted a man with a blue-striped, old-school white Harmon Killebrew jersey. Morneau tossed Rubenstein the ball.
"All I wanted to do was to get up and say 'Go Justin! Justin Mourneau's my favorite!' The next thing I know is I'm out cold," Rubenstein said.
Rubenstein realized at the last second Morneau threw the ball overhanded toward him. He raised his right hand, the ball caromed off his wrist and nailed him in his left eye.
Rubenstein fell backward into Thomas who has worked at Rubenstein Associates for about a week. Foley also witnessed the incident while Thomas' father was buying a hot dog.
"When it hit him, I said 'Oh, that's not good,' " Thomas said. "'I'm going to have to tell my dad that my boss died tonight.'"
Rubenstein was out cold for about 15 seconds when he woke to the screaming of children saying "Mister, mister! Get up! The baseball player wants you!"
"I can't see out of my left eye at all," Rubenstein said. "I look out the right eye, and I see Justin Morneau standing at the edge of the dugout waiting for me to get up. He had a big grin on his face, he winks at me, and he throws the ball underhanded to make sure I get it this time. My reaction was, 'What an honor.' "
The reaction around Rubenstein was laughter and astonishment. The fans had a good giggle when they realized he was fine.
"We're laughing like crazy," Foley said. "I wish I had a picture of him getting hit. I went to the first aid and got him a bag of ice. I told them what happened, and they started laughing."
Fans also gave a round of applause to Morneau for his courtesy. It didn't matter that he was the opposition.
"Everybody was saying after the game that they've never seen a baseball player be involved like that to go back in the dugout, get a second ball and toss it to the guy," Rubenstein said. "One of the attendants said, 'I've been to 1,000 games, and I've never seen that happen before.' "
Rubenstein could not see out of his eye for an hour before he felt "90 percent" better. Foley didn't take any risks, so he drove the crew home after the Indians won, 7-6, in 10 innings. Rubenstein's wife, Carolyn, greeted him when he arrived.
"When my wife saw me, she said I deserved it," he said laughing.
Rubenstein was pleased to hear that the Twins reached out to him afterward. In an email from Dustin Morse, the Twins' director of baseball communications and player relations, he wrote that Morneau said he's happy it happened to a Twins fan.
"Our family's favorite player to the point where we've written letters to the Twins to don't trade him," Rubenstein said. "I don't care if we get CC Sabathia. We love him."
Rubenstein has been a Twins fan since the franchise was the Washington Senators. He began to take an interest after the New York Giants swept the Indians in the 1954 World Series. He stuck by them when the team moved to Minnesota in 1961.
The stories Rubenstein told at West Fork Roadhouse included his oldest son, Keith, receiving a one-day contract with the Twins in 1967 and how his other son, Mark, once met former Minnesota players Torii Hunter, David Ortiz and LaTroy Hawkins.
But after all the playoff games, the World Series moments and his three sons getting a chance to be a part of the organization, Friday night ranks as one of his life's best moments. And he will proudly sport his black eye until it fades away.
"This was just like Babe Ruth," Rubenstein said. "This was like Babe Ruth pointing to center field and hitting a home run for that kid. To me, this is a great baseball story that may never happen again.
"It's really about him [Morneau] more than me. It's just a piece of baseball humanity, and a lot of it is gone. I'd do it all over again."