Hundreds mourn Shenango officer killed in line of duty
Officer William "Jerry" McCarthy Funeral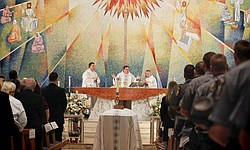 Gallery
Funeral mass in honor of Officer William "Jerry" McCarthy at St. Vitus Church in New Castle, Pa.
By PETER H. MILLIKEN
milliken@vindy.com
NEW CASTLE, PA.
Throngs of Pennsylvania, Ohio and West Virginia law-enforcement officers gathered here Wednesday to pay their respects to Officer William J. McCarthy IV, the Shenango Township police officer killed in a traffic crash while on duty.
The Mass for McCarthy, 60, of New Castle, was in St. Vitus Church, with the Rev. Frank D. Almade, church pastor, officiating.
Motorcycles from the Youngstown, New Castle, Pittsburgh and University of Pittsburgh police departments joined the 30-mile procession from the church past the Shenango Township Police Department to Crestview Cemetery in Grove City for a burial ceremony that featured a Pennsylvania State Police gun salute and helicopter flyover.
The regional officers joined New Castle, Shenango Township and other local police and firefighters at the service.
"Today, we are here to honor a hero who gave his life in the line of duty," Lawrence County District Attorney Josh Lamancusa told the capacity crowd of about 1,000 inside the church during the funeral.
"I have never met a man more proud to be a police officer, a man more concerned with making the lives of everyone around him a little bit better," the district attorney added.
McCarthy, a former Grove City College police officer, was killed last Thursday when the cruiser he was riding in was hit by Kylee Barletto, 26, of New Castle, who police said was fleeing from them.
Barletto was released Monday from St. Elizabeth Health Center in Youngstown to Mahoning County jail to await her extradition to Pennsylvania.
Barletto is charged with manslaughter of a law-enforcement officer and 15 other crimes in the crash.
McCarthy had worked for General Electric in Grove City for 18 years as a repair welder and head of the ergonomics and emergency response teams, retiring in 2009.
He had also been a senior patrol and training officer at Grove City College and a South New Castle Borough police officer.
At the time of his death, he was a detective and humane officer for the Lawrence County District Attorney's Office and a code-enforcement officer with the Shenango Township Zoning Board.
"We wanted to pay our respects and represent the city police department, along with all the other departments that are here," said Capt. Mark Milstead of the Youngstown Police Department, who was with the motorcycle contingent. Youngstown Police Chief Rod Foley also attended.
"This is the last thing we can give to a fallen brother. We want to pay our tributes to him," said Sgt. Dan Ekis of the Pennsylvania State Police in New Castle, as hundreds of state police officers stood in rows in the street in front of the church on New Castle's South Side.
McCarthy's son, Michael A., of Dawsonville, Ga., read from a letter he had written to his father: "You made a difference, buddy. You made a big difference." He added: "I'm sure you're busy patrolling those heavenly streets."
Just before pallbearers carried the casket out of the church, Father Almade said: "There is always sadness in parting, but we take comfort in the hope that, one day, we shall see him again and enjoy his love, service and friendship."
The Pittsburgh Police Emerald Society Pipes and Drums played "Minstrel Boy" and "Wearing of the Green" in front of the church before the service and "Going Home" as the state police ceremonial unit placed the casket in the hearse after the service.
The pipe-and-drum group performs at funerals for fallen officers throughout western Pennsylvania and nationwide.
Pennsylvania flags flew at half-staff Monday through Wednesday at the state Capitol in Harrisburg and were authorized for display at half-staff in Lawrence County in memory of McCarthy, according to the governor's office.
The criminal complaint against Barletto says a New Castle police officer began chasing her about 9:50 p.m., after he saw her nearly rear-end a vehicle and swerve into another lane.
Other city police joined the chase, during which Barletto purportedly ran several stop signs before crashing the car she was driving broadside into a cruiser driven by Shenango Officer Michael Lynch, with McCarthy as a passenger, at Warren Avenue and Cascade Street.
Lynch went to Jameson Hospital in New Castle for treatment of head and other injuries.
Barletto purportedly told investigators she "did something stupid" by not stopping because her license was suspended.
"We have lost a living example of what is meant by the police motto: To protect and serve. He was the consummate professional and an example of compassionate policing," Lamancusa said of McCarthy.