Crump, Boardman hand Ursuline first loss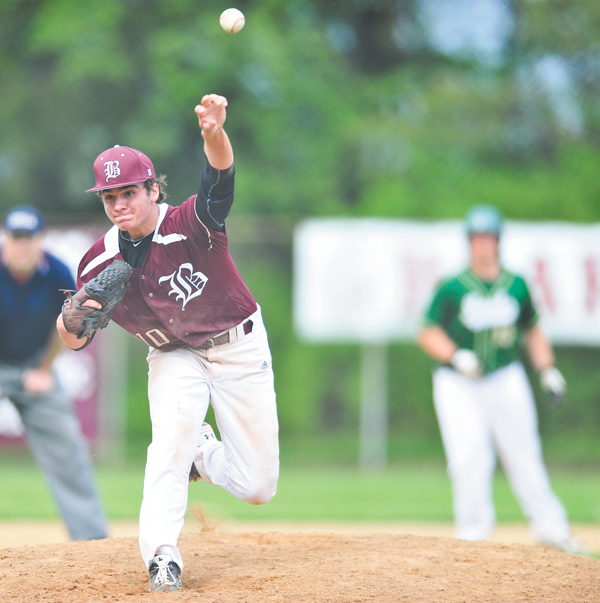 ---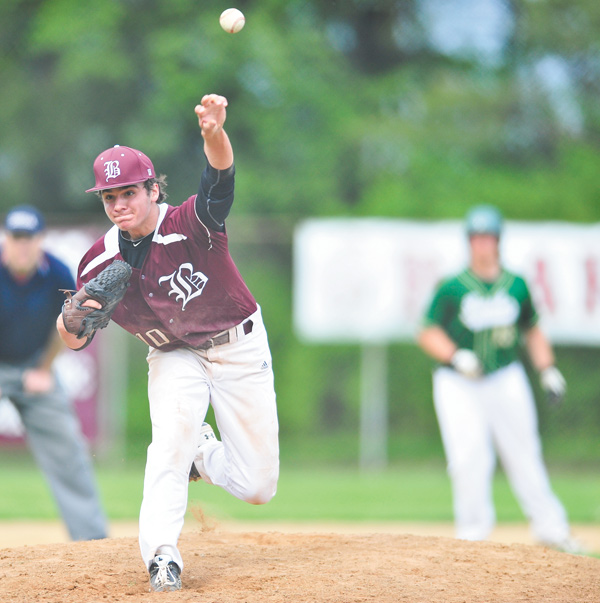 Photo
Boardman's Eddie Crump throws a pitch during Wednesday's game against Ursuline in Boardman. Crump, a junior, earned his second victory, as the Spartans downed the previously unbeaten Irish, 5-1.
Boardman's Crump solves Ursuline as Spartans hand Irish first defeat
By Joe Scalzo
BOARDMAN
Ursuline's perfect season got Crump-led.
Boardman junior Eddie Crump, a crafty left-hander who spends more time playing first base than on the pitcher's mound, tossed a three-hitter, holding the previously unbeaten Irish to an unearned run in Wednesday's 5-1 victory at Boardman High.
"It feels awesome," said Crump, who walked two and didn't have a strikeout. "This was probably one of my better pitching games because it came against a really good team that can hit the ball.
"All day at school, I couldn't take my mind off it [the game]. I just wanted to get out there and pitch."
After giving up a leadoff double and a walk to start the game, Crump retired eight of the next nine batters as the Spartans took a 4-0 lead. Ursuline's lone run came in the fourth, when the first two batters reached on errors and Michael Montalbano followed with a sacrifice fly.
The Irish threatened again in the seventh thanks to back-to-back singles but Crump wiggled out of it to earn his second victory.
"Eddie's been great all year for us," Boardman coach Bob Beam said. "You can see he's not an overpowering type of guy but he throws three pitches and he throws all three of them for strikes."
"I thought their pitcher did a great job keeping us off-balance, although I thought our approach at the plate was less than stellar" added Ursuline coach Sean Durkin. "And we kicked the ball around today, which is very uncharacteristic.
"Give them credit — they took advantage of the mistakes we made."
Boardman did most of its damage in the third inning, scoring four runs off two singles, two walks, two errors, three stolen bases, a sacrifice bunt and a wild pitch that allowed the Spartans to reach first on a strikeout.
"I think the key was getting guys on [base] early so we didn't have to string two or three hits together in a row," said Boardman coach Bob Beam. "Against a kid like that [Ursuline starter Sam Donko], you're not going to get two or three hits in a row.
"He's the best pitcher we've seen this year."
Phil DiIanni and Brian Fryda both singled and drove in two runs for the Spartans (7-12), who start more sophomores (four) than seniors (two).
"We love playing Ursuline," Beam said. "Coach Durkin is one of the better coaches in our area and we schedule up. We schedule [Lakewood] St. Ed's, [Cleveland] St. Ignatius, Canfield and our league, obviously, has teams like Hoover and Lake. Ursuline fits right in there with those teams.
"Those are the teams you have to play to compete at the level we want to compete at."
Donko (6-1) scored the only run for Ursuline (17-1), which opens Division III tournament play next week. The Irish lost in the regional final last season.
"The kids were feeling pretty good about themselves, which kids will do when we've put ourselves in the situation we have," Durkin said. "I think they had a pretty good attitude about it [the loss]. They're leaving here pretty positive, which I tried to instill.
"We've played a lot of good baseball games. Today, we didn't play well and we didn't get a win."