Published: Thu, May 9, 2013 @ 12:09 a.m.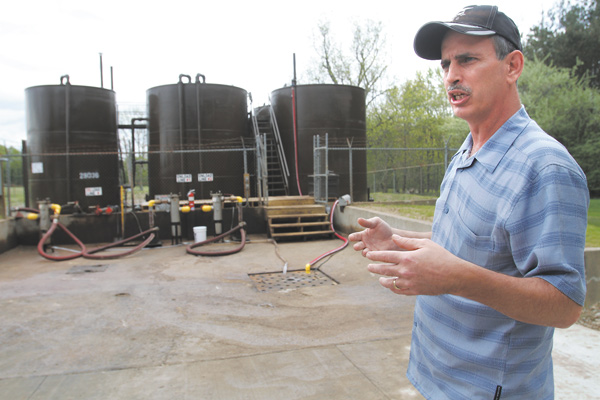 Photo
David Ballentine, president of Northeast Ohio Oilfield Service Inc., stands at the storage facility of his injection-well site in Windham, where fracking wastewater is first accepted before being piped to the actual injection well a few hundred yards away.
WINDHAM
The concept of fracking wastewater being shuttled from a drilling site to an injection well for disposal, whether its coming from inside Ohio or across the state line, tends to stir emotions.
Proposals to barge the waste up the Ohio River, an incident that found hundreds of thousands of gallons of drilling waste dumped into the Mahoning River, and an earthquake triggered by an injection well in Youngstown, have done little to settle the polarization that surrounds the substance and how it's disposed.
But on a small dirt road, just off state Route 88 in Windham on Wednesday, the air was fresh, the ground was clean and all was quiet at a nondescript injection-well site that shares a small plot of farmland nearby.
In all, the bulk of the site encompasses an area no larger than a small lawn.
Northeast Ohio Oilfield Service Inc. leases the property and operates the site.
"It's all locally produced. We don't inject any Utica [Shale], Marcellus [Shale], any out-of-state water," said David Ballentine, the company's owner. "It's all local water that I haul with my own trucks. I'm doing my operation for me, not mass production or disposal. I've always been a local person and dealt with local people around here."
Ballentine serves production companies drilling wells in the Clinton Sandstone, a formation that starts at about 5,000 feet underground. Unlike the deeper Utica Shale formation, where companies are drilling horizontal wells that are hydraulically fracked, wells in the Clinton are drilled the old-fashioned way, at vertical or diagonal angles.
"The Utica is a whole other world that I'm not really interested in stepping into," Ballentine said.
Though his operation is slightly smaller than others, Ballentine, along with the Ohio Oil and Gas Association invited media from throughout Northeast Ohio to tour his injection well, which operates similarly to other injection wells accepting waste from the Marcellus and Utica shale formations.
Ballentine pays the landowners at his injection well yearly to use the property. Only one house sits on the land. The stipulations of his lease allow only 10 trucks to come on the property per day. Each truck carries 80 barrels of waste, each barrel holds 42 gallons.
He said average disposal at the site equals about 250 barrels per day.
The six other injection wells Ballentine operates in the area accept about 1,200 barrels per day on average.
Injection wells are drilled into porous rock formations far below aquifers to depths as low as 13,000 feet.
Ballentine's well in Windham is drilled to a depth of 3,900 feet and firmly encased with steel and concrete to a similar depth for protection.
David Hill, vice president of the Ohio Oil and Gas Association's Board of Trustees, also joined the tour. Hill operates three larger injection wells in Guernsey County that are manned 24 hours a day, unlike Ballentine's wells, where his own employees deliver the waste themselves.
Hill said Ohio has not become a "dumping ground" for out-of-state waste. Ohio, along with 40 other states, regulate and permit their own injection wells. Hill said that rock formations in Ohio are more porous and can absorb wastewater better than rock formations in places like Pennsylvania.
There are 144,000 injection wells across the country. In Ohio, there are 179 and about one half of 1 percent of all the water injected throughout the country is disposed of in Ohio, Hill said.
The injection process, as explained by Ballentine and HIll on site, is a simple one.
Trucks arrive on site, and wastewater is pumped from the truck into large storage tanks. When the transfer is complete, a report detailing the origin of fluid, carrier, date of arrival and the injection site is filed.
The wastewater is then cycled through a series of tanks to help remove dirt and debris from the fluid.
The wastewater then travels to a pump house where it passes through another filter to remove any leftover solids.
From there, it travels via underground pipe, to the actual injection well site a few hundred yards away. It then travels up into a small pipe manifold above ground and then down the injection well, where the water is released through small perforations at the end of the pipe so that it can spread into the rock formation.
A number of safety features at Ballentine's injection well ensure that wastewater does not spill on the ground at any time when the waste is being disposed of. Underneath where the trucks pull in to unload the waste, a drainage basin catches any overflow, where it is collected in a reservoir and pumped back into the storage tanks.
A protective dike around the storage site also prevents any wastewater from an overflowing tank from reaching the ground.
Such features are common at other injection wells.
The entire process is monitored by electronic switches and remote equipment to track pressures and the flow of water.
"It's a pretty underwhelming operation," Hill said, "But it's the easiest and safest way to dispose of the waste."