Phantoms select new players in USHL draft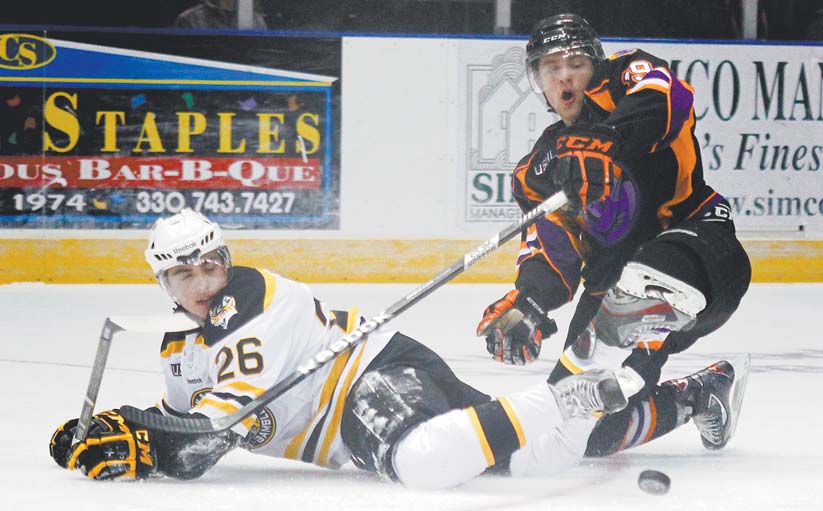 ---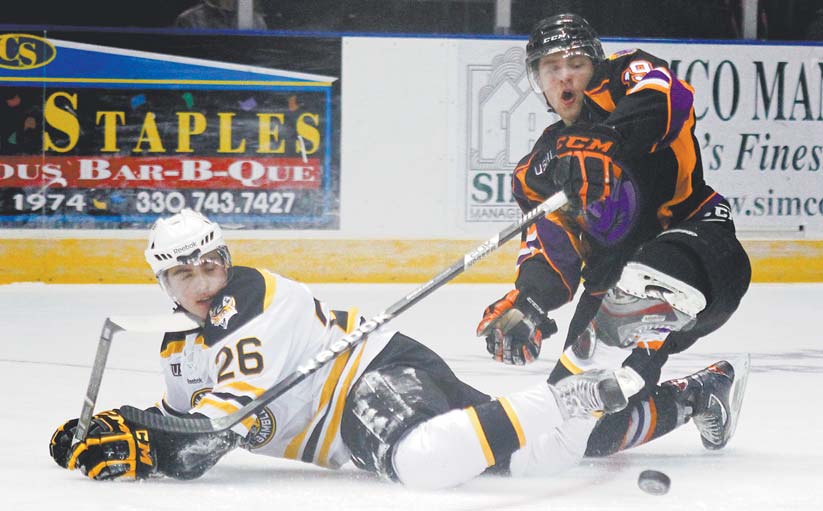 Photo
The Youngstown Phantoms selected 30 players for their protected list after a five-day tryout camp that concluded Monday. Many, including Josh Nenadal (19), above, and Luke Stork (27), bottom right, were members of this year's team (37-27-0, 74 points) which finished in third place in INSIDE the USHL Eastern Conference.
Staff report
YOUNGSTOWN
The Youngstown Phantoms hockey team selected six forwards and two defensemen in the USHL Draft's Phase 1 conducted Monday.
Available for the draft are the top hockey players in the 1997 birth class.
"We're very happy with our draft," said Jason Koehler, the Phantoms assistant general manager. "Everyone has different things they look for, and we weren't sure what might be available for us when and where.
"But at the end of the day, we're thrilled with how it all turned out."
The Phantoms' first pick was 6-foot-3 defenseman Steven Ruggerio from King's Park, N.Y., the same hometown as Phantoms defender Jimmy Mazza.
In an injury-shortened season with the Metro Fighting Moose of the Metropolitan Junior Hockey League, Ruggerio recorded two goals and seven assists.
With their second-round pick, the Phantoms selected forward Kevin Conley out of Wausau West High School in Wisconsin. As a sophomore, the 5-foot-11, 180-pound Conley led Wausau West in scoring with 17-14-31 in 28 games played.
"We were able to get two of our top-rated players available — two guys we really wanted — with those first two picks," Koehler said. "Ruggerio is a big, rangy pro-style defenseman that we wanted here and that you just don't get the chance to draft all the time.
"Conley excelled playing Wisconsin high school hockey," Koehler said. "We've had some great experiences with Wisconsin kids."
Koehler was referring to Phantoms co-captain Alexander Dahl, his brother Jefferson Dahl and Ryan Belonger.
With a pair of third-round picks, the Phantoms selected forward Ethan Price of the Omaha AAA Lancers Under-16 team at 34th overall and Carson Gicewicz of Nichols prep school in New York at 39th.
The Phantoms did not have a fourth-round pick, having traded it along with forward JT Stengelin to Sioux City last November for Cam Brown.
Youngstown added three more forwards with solid bloodlines in rounds five through seven.
Selected were: Chase Pearson, son of former NHL player Scott Pearson in the fifth round; Kole Sherwood, younger brother of Phantoms affiliate and Miami University recruit Kiefer Sherwood, in the sixth round; and Sam McCormick, whose older brother Max is a sophomore at Ohio State and a 2011 draft pick of the Ottawa Senators, in the seventh round.
Canadian-born defenseman Kris Myllari of the U16 AAA Ottawa Senators was taken in the eighth round.