McNally edges Brown by only 150 votes in Dem primary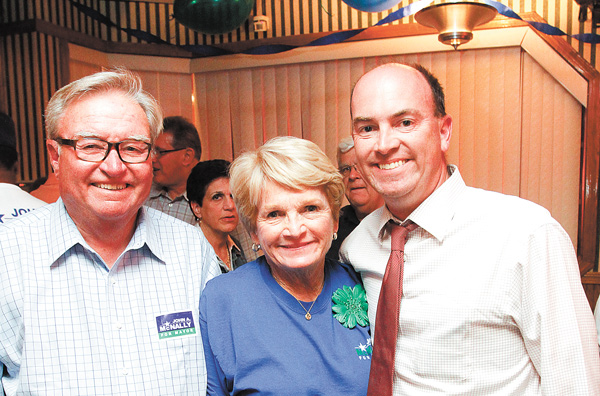 ---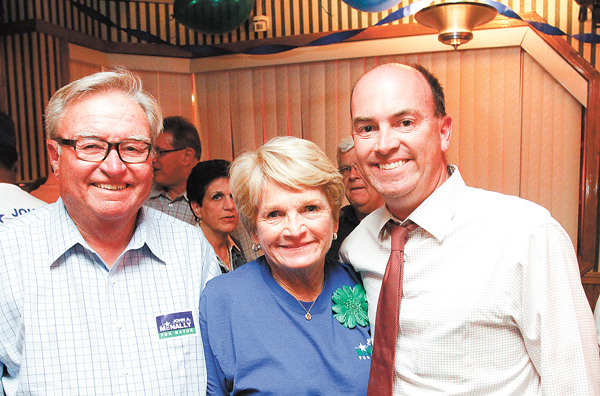 Photo
John McNally, right, celebrates his win with dad and mom, John McNally III and Jeanne McNally, at the Golden Dawn on Wick Avenue on Tuesday night. McNally won a very tight race in the Democratic primary for Youngstown mayor against Jamael Tito Brown and Matthew Smith.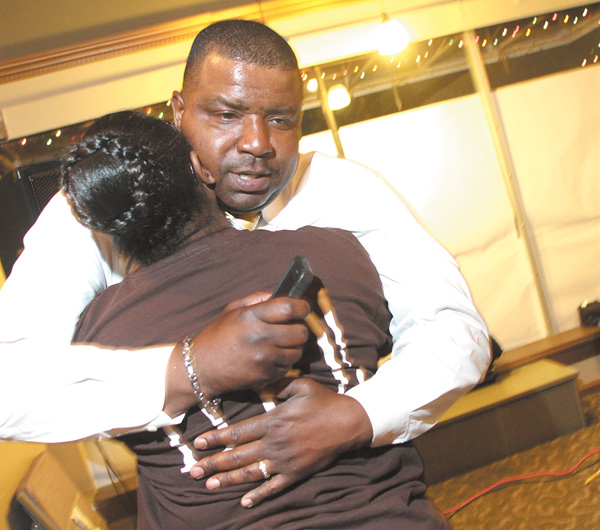 Photo
Jamael Tito Brown gets a hug from a supporter after conceding the mayoral primary to John McNally IV at Our Family Restaurant on West Wood Street.
By DAVID SKOLNICK
skolnick@vindy.com
YOUNGSTOWN
In post-election comments, it was somewhat challenging to determine who won the Democratic primary for Youngstown mayor.
In a very tight race, John A. McNally IV, a former Mahoning County commissioner and city law director, beat council President Jamael Tito Brown by only 150 votes.
McNally received 3,292 votes, 50 percent, to 3,142 votes, 48 percent, for Brown, according to final but unofficial totals from the county board of elections.
Matthew Smith received 96 votes.
There are 27 provisional ballots to be counted, but they won't change the outcome of Tuesday's primary.
"It was close," McNally said. "It makes you wonder. I am surprised how close it was. I knew it would be a hard campaign."
Despite the loss, Brown was upbeat after the election votes were counted.
"He outspent me 3-to-1, and for it to be that close, [McNally] didn't expect that," Brown said. "We didn't get quite where we wanted to be, but at the end of the day, I'm satisfied."
McNally said one key issue that made the race closer than he expected was "turnout was low."
Overall, turnout was 16.9 percent in Mahoning County among those eligible to vote in the primary. That's slightly up from the 16.2 percent turnout in the county in 2009, that last Democratic primary that had a Youngstown mayoral race.
The turnout in Youngstown was unclear as of Tuesday night, but the board of elections said Democratic turnout in the county was 44.9 percent. Only Democrats in Youngstown and Struthers were able to vote in this primary.
McNally said his turnout in the 4th and 5th Wards greatly helped his primary victory. The West Side wards, the 4th in particular, are predominantly populated with white residents. McNally was the lone white candidate in the mayoral primary.
"We've got to increase turnout in the general election," McNally said. "We savor the victory and we'll go on from here. The general election will be a crowded field and we'll see how it plays out."
In the November general election, McNally will face challenges from five independents, including DeMaine Kitchen, the mayor's chief of staff/secretary, and former Police Chief Jimmy Hughes. That is if all of the candidates are certified by the board of elections as having enough valid signatures on their nominating petitions.
The elections board has until July 15 to certify, though its members typically do it prior to that deadline.
As of April 17, the most recent reporting date, McNally had raised $107,953 to $30,277 for Brown.
"It was a remarkable job by our committee during this race," Brown said. "We went to the voters. We came up a little short."
Brown said he is supporting McNally in the November general election as the latter was the winner of the Democratic primary.
As for Brown, he'll finish his term as council president on Dec. 31.
"I don't know what I'll do politically in the future," he said. "It's too early to tell. I'll always be involved."
Brown had a 25-vote lead, 1.64 percentage points, among those who cast ballots early. Brown increased his lead to 7.32 percentage points after votes were counted in the 7th Ward, eight out of the 10 precincts in the 6th Ward, half of the 14 precincts in the 5th Ward, and two in the 1st Ward.
But that lead evaporated quickly when the rest of the 5th and all of the 4th Ward were counted with McNally surging to a lead of 19.52 percentage points.
McNally just held on to win by 2.29 percentage points when the entire city vote was counted.
County Democratic Party Chairman David Betras said McNally, the party's mayoral nominee, "ran an exemplary race and his victory is well-deserved." He also praised Brown for his campaign effort.
Also Tuesday, Susie Beiersdorfer beat Terrance Esarco 42 votes to 8 in the Green Party primary for Youngstown council president. Beiersdorfer will face Mayor Charles Sammarone, the Democratic nominee for council president, in the general election. Also, Chris Travers filed as an independent candidate for that position.