Graham unseats Dean in Warren council president's race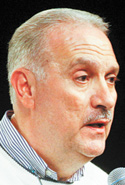 ---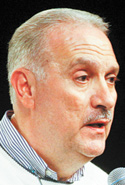 Photo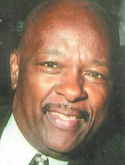 Photo
By Ed Runyan
WARREN
Jim Graham, longtime labor leader but political newcomer, has defeated incumbent Bob Dean for Warren council president, a position that puts him in charge of running Warren council meetings but doesn't carry much power.
After years of being influential in the oper- ation of the General Motors Lordstown plant, one of the largest area employers, and after running for mayor two years ago, it stands to reason he'd want to make a big impact on the city.
But on Tuesday night, as he did in a previous interview, Graham focused on the supportive nature of his role as council president.
When asked what are the most critical issues Warren faces, Graham said, "The mayor knows what the issues are, and I want to be the best resource the city has."
He added, "I think we can start the process of moving our city forward. I want to be the best resource the city has."
Graham, who is retired from his job as president of Local 1112 of the United Auto Workers, has no opponent in November.
Bob Dean, who moved to the council president's chair two years ago after serving as councilman at large from 2004 to 2011, could not be reached to comment on the election loss.
Complete but unofficial results show Dean losing 56 percent to 44 percent.
One of the most talked-about issues in the campaign was the controversy over Dean's fundraising activities, especially the collection of about $55,000 to help the families of six teens who died in a March 10 car accident on the south end of Warren.
Some family members complained when Dean and several pastors appointed to oversee the spending of the money announced that $10,800 in remaining funds would be kept in a bank account for use the next time a tragedy like this occurred.
Dean also became embroiled in controversy after calling for the resignation of fellow council member Cheryl Saffold who was charged with driving 50 in a 25 mile per hour zone in Warren and mentioning to the officer that she was a council member.
Dean has been involved in numerous other fundraising activities over the years, such as coats for kids and veterans fundraising.
Graham said during the campaign that as council president he would being a conduit between the 10-member city council and the mayor and that fundraising activities should be left to the churches.
Council president doesn't have a vote unless it's needed to break a tie. He makes committee assignments and runs the twice-monthly council meetings.
Graham, who vowed not to run for office again after losing to Franklin for mayor, said one reason he changed his mind is that a large number of council members "asked me to run."
Graham claimed to have the support of more than half of the current council members.
Graham has said that as council president, he would spend his time trying to create a sense of teamwork among council members, saying it was his ability to draw people together that helped GM Lordstown return from the brink of closure.
In the open 1st Ward race, well-known community block-watch leader Larry Larson defeated Felicia Davis and Clyde Wilson to replace the retiring Fiore Dippolito.
In the 6th Ward, incumbent Saffold defeated Erica Royster 51 percent to 49 percent. All other incumbent council members faced no opposition.