Dow Jones reaches another milestone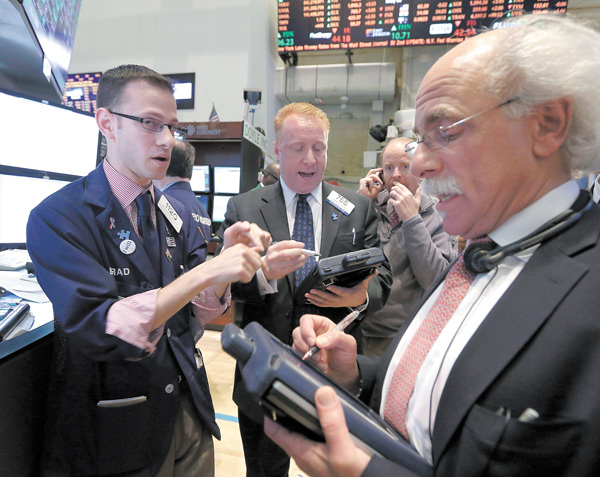 ---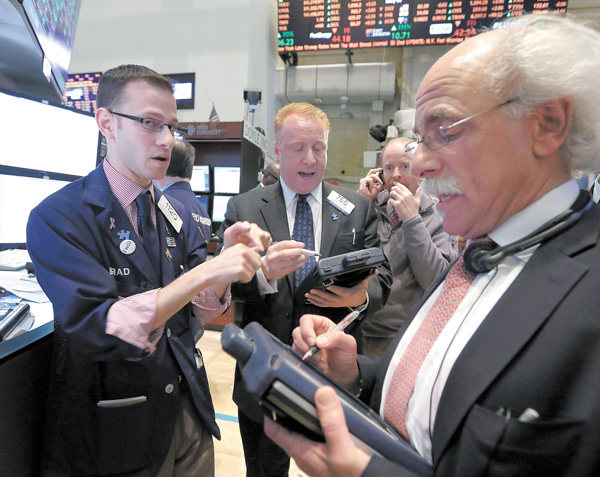 Photo
Specialist Bradley Kessler, left, works with traders on the floor of the New York Stock Exchange on Tuesday. The Dow Jones industrial average punched through another milestone Tuesday: its first close above 15,000.
Associated Press
NEW YORK
The Dow Jones industrial average punched through another milestone Tuesday, closing above 15,000 for the first time just two months after recovering the last of its losses from the 2008 financial crisis.
Good economic reports, strong corporate earnings and fresh support from central banks helped ease investor concerns about another economic slowdown. Many had been on the lookout for signs that a spring swoon would derail the rally, as happened in each of the past three years.
Instead, the Dow continued its epic ascent of 2013, which has seen it climb 1,952 points — almost 15 percent — since Jan. 1.
"The thing that's been driving stocks is rising confidence," said James Paulsen, chief investment strategist at Wells Capital Management. "Economic growth, job creation and the housing market have been better than expected."
The Dow closed at 15,056.20, up 87.31 points, or 0.6 percent. The Standard & Poor's 500 index added 8.46 points to a record 1,625.96, a gain of 0.5 percent. It has jumped 199 points this year, or 14 percent.
The record close extends the stock market's comeback from the depths of the financial crisis. Both indexes reached all-time highs earlier this year, then kept rising, largely driven by optimism that the U.S. economy will keep gaining strength.
"We don't think people are giving enough credit to the strength of the economy," said Ryan Detrick, a senior technical strategist at Schaeffer's Investment Research.