Published: Wed, May 8, 2013 @ 12:00 a.m.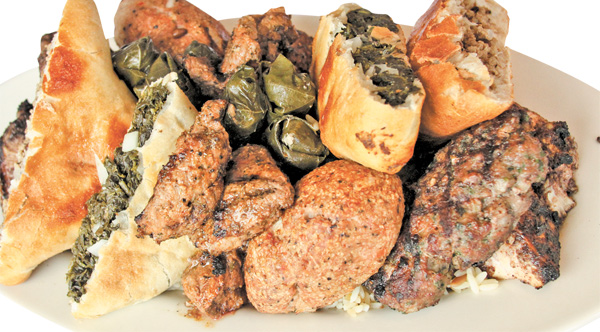 Photo
Lebanese dish called Maza for two at Upstairs lounge in Austintown.
If You Go...
Where: Upstairs Restaurant
Address: 4500 Mahoning Ave., Austintown
Phone: 330-793-5577
Hours: 11 a.m. to 10 p.m. Monday through Thursday; 11 a.m. to 11 p.m. Friday; and 5 p.m. to 11 p.m. Saturday
Online:
ABOUT Signature Dishes
Mike and Mark are on the lookout for the biggest, hottest and tastiest dishes in the Valley. Email them at BrothersInFood@gmail.com.
AUSTINTOWN
After our "phobulous" debut last month, a few things occurred to us.
First, perhaps we shouldn't leave things to chance and offer our own headlines.
Second, from the emails, text messages and phone calls we received, we are indeed blessed by good family and friends.
Last, maybe we should elaborate a bit on the "Brothers in Food" thing, but more on that later. Let's talk about The Upstairs Restaurant.
Set back off Mahoning Avenue is a gem that's easy to miss if you're pushing the speed limit. The Upstairs, owned by Joe Saadey, has been in business for 25 years. Aside from its reputation for having an impeccably clean kitchen and great food, the restaurant features Middle Eastern specialties on Monday nights, and we wanted to sample them.
The Upstairs has a warm, inviting atmosphere accentuated by beautiful original paintings done by the owner's mother. We were lucky enough to sit down with the head chef, Tim King, who has been with the restaurant 14 years, as he guided us through our Middle Eastern meal.
Tim explained that the restaurant has been doing the Monday night fare since its inception and that much of the same staff has been preparing this food for many years. Tim was perfectly clear — he loved what he was doing, he was exceedingly proud of his kitchen staff, and the key to the end product about to be served was the careful preparation required of the simple, straightforward ingredients.
Our meal started with a plentiful array of appetizers consisting of hummus, tabbouleh, baba ghanoush, raw kibbeh, hot peppers and a Lebanese bread seasoned with za'atar spices.
Hummus is a dip featuring mashed chick peas as a foundation, and baba ghanoush has roasted eggplant as its base. Both dips are enhanced with tahini (a sesame paste), fresh lemon juice and olive oil. These creamy dips are served alongside fresh pita bread.
Our favorite appetizer was the raw kibbeh, which consisted of lean eye-of-round beef finely ground then mixed with sweet red peppers, crushed wheat, salt and pepper and topped with olive oil and thinly sliced white onions. The kibbeh offered a nice contrast between the raw beef and the texture of the crushed wheat.
Combined with the smoothness of the olive oil and the subtle bite of the white onions, kibbeh was the perfect appetizer. The mild heat of the house-made hot peppers went well with the fresh-baked bread topped with the spice za'atar. Za'atar consists of the tart flavor of sumac, in addition to thyme, sesame seeds, marjoram, oregano and coarse salt.
The table was cleared of what little was left of our appetizers, and we heard Chef Tim tell our waiter, "Bring out the Maza platter." The word platter was not an understatement. The Maza platter contains an assortment of Middle Eastern staples, including spinach and meat pies, stuffed grape leaves, fried kibbeh, shish-ke-bob (lamb), shish-ta-wok (chicken), and kafta (beef) served atop a bed of tender rice pilaf.
We started this next course with the fresh pies. These are not pies in the traditional sense, but they are analogous to turnovers. From the first bite you knew the soft dough was from scratch. The lemony, tart spinach pie was a nice opposition to the savory meat pie.
We next set our sights on the lamb and chicken. Both marinated in garlic paste and seasoned with a slight amount of sumac, the meat is then grilled to pick up a slight char.
The cooked variation of kibbeh is stuffed with seasoned ground meat, onions and toasted pine nuts, and like the other meat dishes, it paired well with both the bite of the garlic paste and the contrasting coolness of the yogurt dip.
Next we moved to the stuffed grape leaves. Variations of this humble dish are found across many cultures. Here the grape leaves are stuffed with ground beef, rice and a hint of fresh lemon juice. Simple yet delicious.
In all the ethnic food we sampled at The Upstairs, we could taste the respect for tradition that went into its preparation.
Whether you are in the main restaurant on the upper floor, lounging outside on the airy patio or in the quieter atmosphere of the Wine Down on the first floor, you will find yourself in a place of comfort and good food.
So, back to "Brothers in Food." Although not related by blood, we have much in common: wives more beautiful and kind than either of us deserve, we are blessed with three wonderful children, our real jobs allow us to work together, occasionally we cook together, and we love going out to eat at great local spots in the Valley, like The Upstairs Restaurant.