K.O. Drugs Boxing Tournament returns to St. Lucy's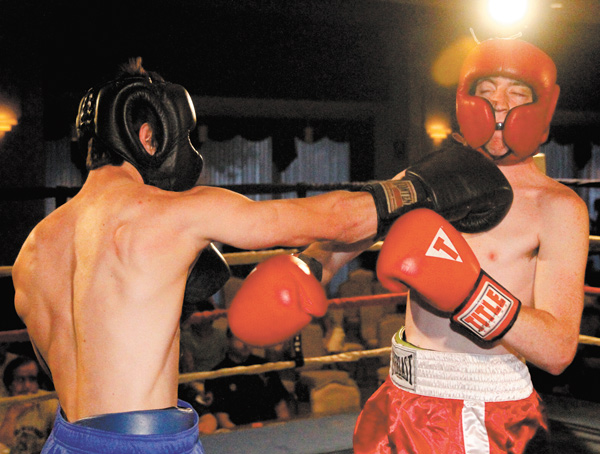 ---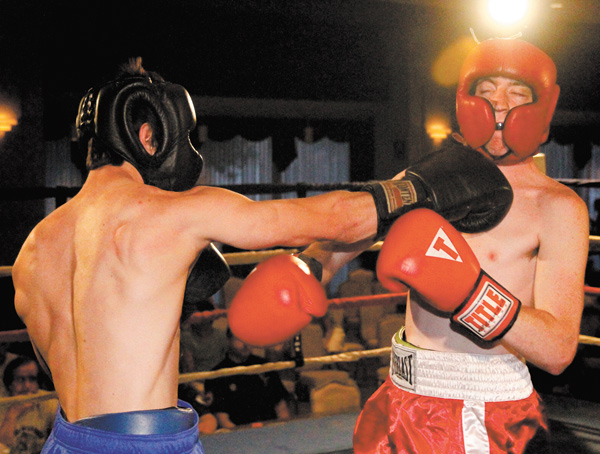 Photo
Ryan Patterson of Poland, left, hits Joshua Voland of Neshannock, Pa., on Monday night during the first round of the K.O. Drugs Boxing Tournament at St. Lucy's Palermo Center in Campbell.
By Greg Gulas
CAMPBELL
The 25th annual K.O. Drugs High School Boxing Tournament got under way with 19 bouts at St. Lucy's Palermo Center on Monday night.
Josh Mango, who won last year's upperclass middleweight crown, got off on the right foot in defending that crown as he scored a unanimous decision over Keystone's John O'Toole.
A member of the Niles Red Dragons football and basketball teams, Mango said a year between competitions has made a big difference in his approach.
"I learned a lot last year and in the process became a more controlled fighter. I went with a few jabs, but my uppercuts were what worked best tonight," he said.
His schoolmate, Nick Lardas, got off on the right foot as well by stopping Canfield's Tom Kaleel, also by unanimous decision.
"Jabs win fights so I led with that tonight. I worked and trained really hard to get to this point and felt good all three rounds," Lardas said. "I did think, however, that it would be more of challenge in the ring."
In a cruiserweight pairing, Canfield's Hayden Smith scored a unanimous decision over Joseph Phillips of South Range, in his first ever fight. Marlington's Jesse Chenevey and Zane Henricksen, who is home schooled, battled to the only draw of the evening.
"My size was my biggest advantage. I've been knocked around in football by former K.O. Drugs champion Dante DeLorenzo, so my motivation is match him by also winning a championship," Smith said.
Also in upperclass action, Neshannock's Chris Pagley returned after posting a 1-1 mark last year and scored a unanimous decision over Jonah Ortiz of Stuthers.
"My goal this year is to win a title. Tonight, I just followed what my trainer, Mike McMullen taught me and that was to throw a lot of jabs and then go with the straight right," Pagley said.
In underclass pairings, Addison Richards, who is home schooled, got the night started by scoring a unanimous decision over Jackson-Milton's Brandon Lamb in a featherweight bout, while in junior lightweight action, Austintown Fitch's Austin Stevens, who is fighting in his first tournament, won a unanimous decision over Shane Samaniego of Campbell Memorial.
Stevens, according to the three judges' scorecards, lost the first round but rallied to win the final two rounds and the bout.
"I wasn't ready when I stepped into the ring and had to get a feel for how he [Samaniego] boxed. In order to do that I had to take some hits," Stevens said. "Once I knew what to expect, I was then able to adjust and win the final two rounds."
Also in underclass action, New Wilmington's James "Beau" Bauer scored a third-round TKO over Daniel Dilley of Niles in a cruiserweight battle. It was his first fight and also resulted in the night's first stoppage.
"I felt like I controlled the entire fight, but in the third-round after I went with a double jab I noticed that he [Dilley] swung wild so when he opened up, I snuck in my left hook and it connected," Bauer said. "My goal was to fight at a steady pace and finish strong, but not get ahead of myself."
Other underclass winners included Jake Bunch of Reynolds, who scored a unanimous decision over New Castle Union's Ryan Stitt in lightweight action; Tyler Tabor of Canfield, a unanimous decision winner over Terrell Neeley of Campbell Memorial in a cruiserweight bout; and both Aaron Jenkins of Canfield and Tyreck Daniels of Hubbard, who scored unanimous decisions in welterweight and super heavyweight clashes.
Second-round action continues May 20 while semifinal round action is slated for June 3. All championships will be decided on June 10.