Fitch's Ford notches 200th victory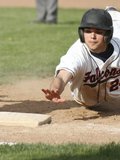 ---
Coach Ford's 200th Win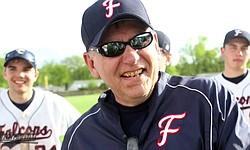 Video
Austintown Fitch Baseball coach Wally Ford celebrated his 200th win today.
Coach Ford Wins 200th Game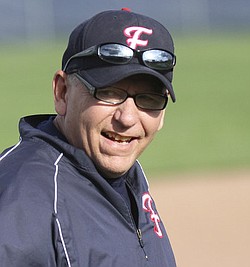 Gallery
Austintown Fitch Baseball coach Wally Ford won his 200th game today.
By Tom Williams
AUSTINTOWN
After achieving a milestone, Fitch High baseball coach Wally Ford was more interested in spreading the wealth.
"[Pitching] Coach [Joe] Paris has been with me for all 200 wins," said Ford after the Falcons edged Niles, 1-0, in a 80-minute pitching gem on Monday. "To be in that kind of game made it even better because that was a great high school baseball game."
The Falcons (15-2, 10-0 All-American Conference American Division) swept their league opponents, a special moment for Ford's seniors.
"For a lot of these guys, it's their third year playing [varsity]," Ford said. "We did take our lumps that first year, improved some last year and had high expectations.
"We've had different guys picking us up all year," Ford said. "This is special."
So was the game that brought Ford his 200th victory in 15th seasons.
"Two good teams, both pitchers throwing strikes," Ford said. "Both teams hit the ball hard but right at guys. Both defenses were making plays."
Not happy with the final score, Niles coach Mike Guarnieri appreciated what Ford means to the Falcons.
"I've coached against Wally a long time," Guarnieri said. "He's a class guy, runs a class program. Unfortunately it had to be us, but I am very happy for him."
The Falcons' Austin Cooper (4-1) tossed a four-hit shutout.
"[Ford] really enjoyed this victory, especially since it was such a close game," said Cooper who struck out four, walked one and hit one. "Today wasn't a big strikeout day.
"I have a solid defense behind me, I really trust all those guys in the field. Usually if I put the ball in play, they'll make the plays."
Both teams had multiple scoring chances. The Red Dragons (15-6, 6-3) stranded five baserunners and the Falcons six.
The Red Dragons had two on with one out in the first inning. Cooper struck out Ryan Ifft and ended the inning with a fielder's choice.
In the fourth inning, catcher Zarek Bell snapped the ball down to first baseman Phil Socha who tagged baserunner Cody Bobbie for the third out.
"The batter [JC Pierko] tipped it, but I caught it, so [Pierko] hesitated a little," Bell said. "As soon as I caught it, I knew that I had him dead to rights so I just gunned it down there.
"As a catcher, I don't think there's a better feeling — that's like hitting a home run for a catcher."
Ford said, "Any time you throw guys out on the bases, that's a big plus."
The Dragons came closest to scoring in the fifth inning when Pierko was hit by a pitch and advanced to third on a sacrifice and a groundout. Cooper ended the threat when Justin Lopes flew out to left fielder Shane Vitullo.
Niles pitcher Tyler Wiery (3-2) scattered five hits, struck out three and walked three.
"He's a pretty tough pitcher," Cooper said. "He's having a solid year."
Vitullo scored the game's only run in the bottom of the fifth inning. After drawing a one-out walk, Vitullo took second when Wiery threw wild in a pickoff attempt.
Scott Pierce, who had doubled in his previous at-bat, sent Wiery's 1-2 pitch into left field for the only RBI.
"This is very special, especially for Coach Ford," Pierce said. "To get the 200th win for him is unbelievable. We're just glad to get the job done."
Pierce said he wasn't looking for any pitch in particular.
"He threw a curveball inside and I just turned on it," the shortstop said.
Guarnieri said, "That was one of the best high school games you're going to see. You had two pitchers controlling the game. The defenses brought the gloves today."
After the game, the Falcons unveiled a sign on the left-field fence commemorating Ford's milestone.