Indians hit four home runs in win over Oakland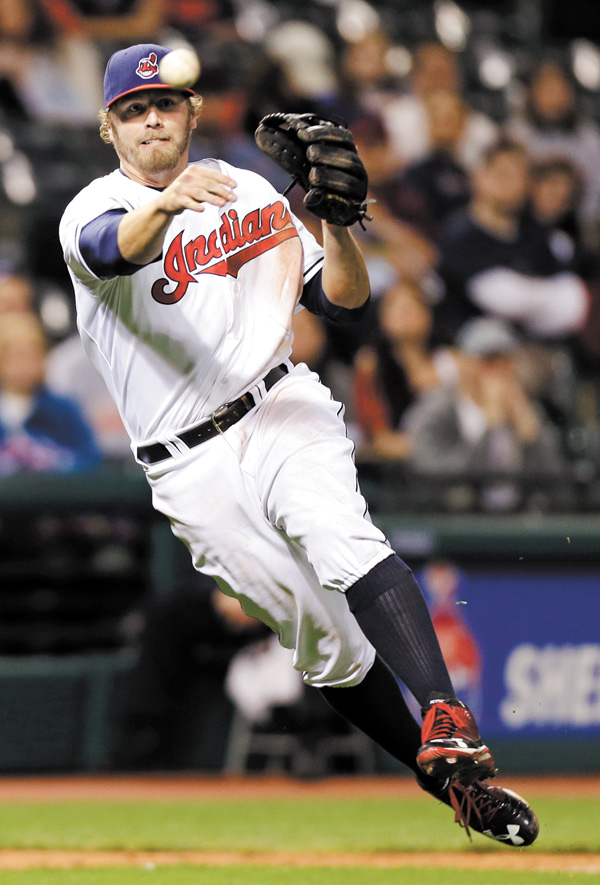 ---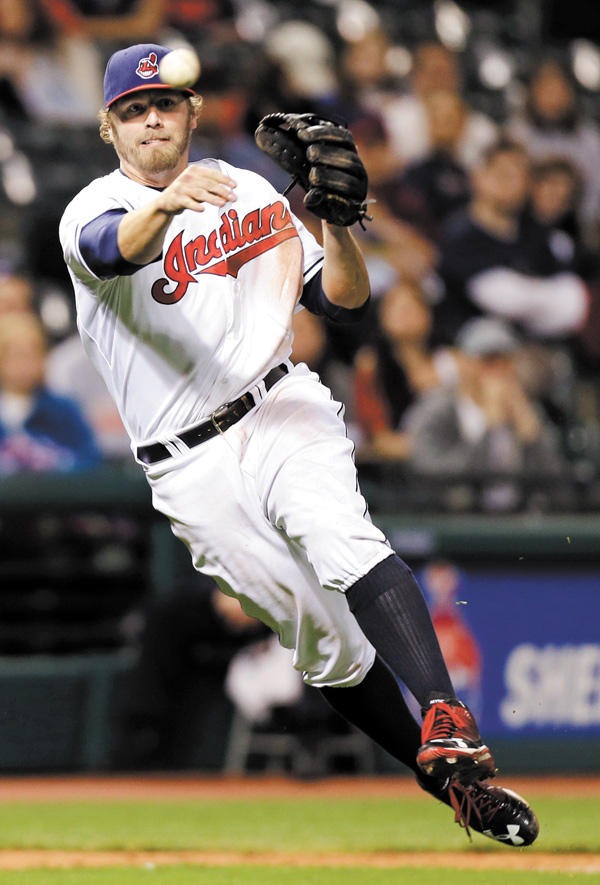 Photo
Cleveland Indians third baseman Mark Reynolds throws out the Oakland Athletics' Luke Montz in the ninth inning of a game Monday in Cleveland.
Associated Press
CLEVELAND
Asdrubal Cabrera homered twice and Mark Reynolds hit one to the deepest reaches of Progressive Field, leading the Cleveland Indians to a 7-3 win over the Oakland Athletics on Monday night.
Jason Kipnis and Cabrera hit consecutive homers in the first inning off Jarrod Parker (1-5). In the fifth, Cabrera homered again and Reynolds launched a 460-foot shot — his 10th this season — that nearly cleared the left-field bleachers.
The four homers backed Ubaldo Jimenez (2-2), who had his second straight solid outing. Jimenez struck out a season-high eight in 52/3 innings as Cleveland won for the seventh time in eight games.
Jason Giambi hit a clutch, two-run single and Ryan Raburn doubled home a run in the seventh for the Indians, who had their six-game winning streak stopped Sunday.
Yoenis Cespedes homered and hit a sacrifice fly for the A's, who had won eight in a row over the Indians.
Jimenez pitched seven shutout innings in his previous start last week at Kansas City. It was the type of performance the Indians have been waiting to see from the right-hander, who has been a major disappointment since coming over in a 2011 trade from Colorado.
"It flew past encouraging and went right to exciting," Indians manager Terry Francona said before Jimenez faced the A's.
Jimenez wasn't as dominant, but he was good enough to slow down the A's, who came in leading the majors in runs, doubles and extra-base hits. Jimenez allowed two runs and four hits.
Jimenez was helped by the long ball as Cleveland clouted the four solo shots — they lead the AL with 44 homers — totaling 1,581 feet off Parker.
The Indians gave Jimenez a quick 2-0 lead, jumping on Parker in their first at-bat as Kipnis and Cabrera hit their back-to-back homers.
Kipnis hit his third homer into the left-field seats, and Cabrera followed with a rocket that skipped off the roof of Cleveland's bullpen in center. One out later, Parker drilled Reynolds and plate umpire Angel Hernandez warned both benches before things escalated.