Mahoning County road construction running smoothly, state says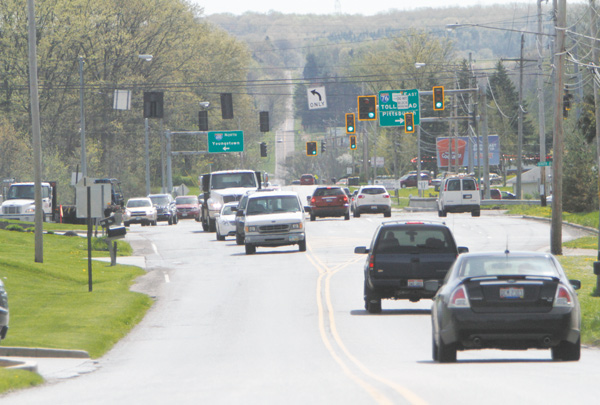 ---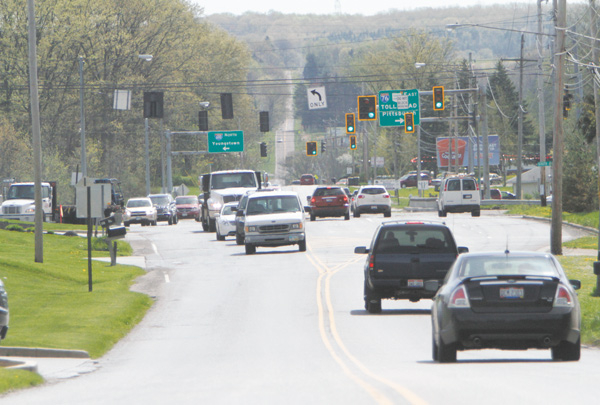 Photo
This area of Western Western Reserve Road in Boardman Township is due for road work this year, according to state and Mahoning County officials.
By Susan Tebben
YOUNGSTOWN
The construction season has just begun, but drivers already are noticing the orange barrels and slower speeds on highways and local roads.
Everything is going according to plan, said Ohio Department of Transportation District 4 spokesman Justin Chesnic.
"Six projects right now are active with lane restrictions," he said.
A three-year bridge repair project on Interstate 680 in Youngstown is wrapping up, Chesnic said. This project, the rehabilitation of seven bridges, was slated to be completed in July 2013, but Chesnic said it will probably be done by the end of May.
Bridge painting and deck sealing are the only things left to be done to the Silliman Street entrance ramp to I-680 southbound, 680 over Price Road and Mill Creek, Woodland Avenue over 680, 680 over U.S. 62/state Route 7, 680 over Delason Avenue, 680 over the railroad and Williamson Avenue over 680 — all in Youngstown.
Beginning today, lane restrictions will be in place on I-680 between state Route 711 and Midlothian Boulevard for drainage maintenance work, according to ODOT.
The big U.S. Route 224 resurfacing is not set to begin for at least another month, Chesnic said, but the replacement of bridges at 224 and 680 has been awarded to a contractor, so progess is being made.
Chesnic said the public will be notified before any work starts on the 224 project that spans Canfield, Poland Village, Boardman Township, Berlin Township and Milton Township at a total cost of $9.7 million.
But before any of that happens, lane restrictions are in place for utility work on the road, over 680.
The project started with the 680/224 bridge ramps in April, and continues with 224 in Berlin and Milton Townships in July and resurfacing in Canfield in August.
A two-week road closure of state Route 534 in Milton Township is halfway done, Chesnic said.
"It's pretty early in the year, we're just getting started," Chesnic said. "It's a long season but so far so good."
Most of the public comment about the projects has been "pretty minor," he maintained.
"We got a lot a calls about the 534 project in Milton Township, but it was mostly people wanting to know what we were doing and how to get around it," Chesnic said.
Lane restrictions are in place until further notice for state Route 165 in Beaver Township for a $3 million project to replace two bridges on 165. Route 165 over Mill Creek between Blosser Road and Basinger Road is closed through early August, according to ODOT. State Route 11 under 165 will have daily lane restrictions for bridge painting through mid-May.
Route 165 is now open east of U.S. Route 62.
ODOT is to start work today in Columbiana County on a $1.96 million project on state Route 154. The route will be resurfaced from Rogers to the Pennsylvania state line. The project is scheduled to be complete this November.
"Everything's on schedule; it's always dependent on the weather — that's always the biggest factor," said Lauren Holdsworth, public information specialist for ODOT District 11, which covers Columbiana County.
Six projects in Columbiana County are upcoming, including completion of a bridge deck replacement on state Route 344 just east of Leetonia at the state Route 11 interchange, Holdsworth said. The project started last August and is scheduled to be finished at the end of May.
Eleven miles of state Route 7 from state Route 267 to state Route 14 are also in the midst of resurfacing, which should end in August.
The Mahoning County Engineer's Office is working on its own resurfacing projects, including nine roads in six townships.
Walker Mill Road will be resurfaced from North Lima Road to the I-680 bridge in Poland Township, according to the engineer's resurfacing list.
New Buffalo Road from Western Reserve Road to Lynn Road in Beaver Township is also scheduled to be resurfaced, which should help with detours in October when ODOT starts its own paving, intersection improvement and bridge work on Western Reserve Road [state Route 164].
Duck Creek Road from Western Reserve Road to Calla Road in Goshen Township is on the list as well, along with Simon Road from Indianola Road to South Avenue in Boardman, Kirk Road from Raccoon Road to state Route 46 in Austintown, Fifth Street from the Struthers city limits to Lyon Boulevard in Poland, Southern Boulevard east from Mathews Road to Indianola Road in Boardman, Clingan Road from Route 224 to the Struthers city limits in Poland and North Benton West Road from 12th Street to Johnson Road in Smith Township.
In Trumbull County, contracts are set to be awarded by the state this month for projects including resurfacing of Ohio Avenue in the village of McDonald, between Marshall Road and Olive Street. Resurfacing of West Park Avenue in Weathersfield Township is also set to be awarded, along with resurfacing on state Route 46 in Mecca and Greene townships between state Route 88 and the Ashtabula county line.