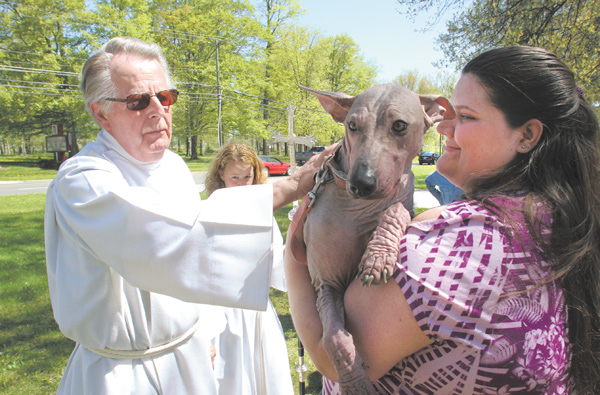 ---
Blessing Of Pets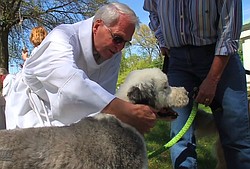 Video
A Boardman church blessed pets today.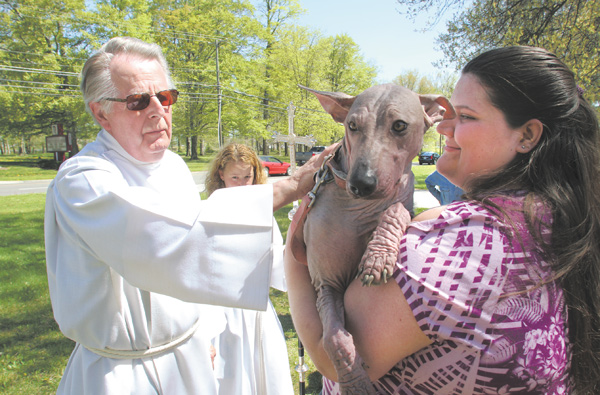 Photo
The Rev. Erwin Smuda, interim rector at St. James Episcopal Church in Boardman, blesses Roxie, a Mexican hairless, during Sunday's Blessing of the Animals. At right is Roxie's owner, Cynthia Parkhurst of Boardman.
By Sean Barron
BOARDMAN
Many people such as Gail Hite of Youngstown feel blessed to have their pets, so it's logical they would want their pets to be blessed.
"She's my senior-citizen girl," said Hite, referring to Taylor, her 12-year-old black Labrador retriever. "She's 84 in the people's life."
Hite was among those who brought their pets to Sunday's annual Blessing of the Animals at St. James Episcopal Church, 7640 Glenwood Ave.
Thirty to 35 dogs, cats, rabbits and goldfish received individual blessings during the one-hour event, noted the Rev. Dr. Erwin Smuda, the church's interim rector.
The outdoor gathering was in the spirit of Rogation Sunday, the fifth Sunday after Easter and the Sunday before Ascension Day, which is May 13.
Rogation Sunday typically is a traditional time many people thank God for his creation. It also is a day to bless the fields as the year's crops are planted, as well as farm animals for providing sustenance to their communities.
Sunday's event was to retain certain aspects of the tradition by blessing animals that bring joy, companionship and enrichment to many people, the Rev. Mr. Smuda explained.
Hite, who's worked 40 years in the admissions department at St. Elizabeth Health Center in Youngstown, said Taylor certainly has brought her much love and happiness.
"Her eyes met mine and I met her and it was all over with," Hite continued, adding that she bought her dog at a farm in Rogers.
Mr. Smuda's Scripture readings were from Genesis 2:20, which describes God's making animals and allowing the man to name them, as well as from Psalm 8:7-9. That passage glorifies God's name and refers to his giving people the ability to care for living things.
Thanks to 2-year-old Roxie, more love has found its way into Cynthia Parkhurst's life — not to mention more licks.
Roxie is a Mexican hairless dog, a rare, intelligent and loyal breed that often has little more than tufts of hair on the head or tail. Some varieties look similar to a Doberman pinscher and have large, batlike ears.
Parkhurst, a licensed-practical nurse at Parkside Health Care Center in Columbiana and Omni West Assisted Living Residence in Youngstown, said she found Roxie through an online dog-rescue site. Roxie is in a six-month therapy-dog training program and will offer companionship to many long-term care residents, she noted.
"She's very loving. She'll curl up with anyone and can sense when anyone is upset," Parkhurst said.
Accompanying Parkhurst at Sunday's blessing were her parents, Mike and Diane Parkhurst, who came with their cocker spaniels, Stella and Isabella.
Eight-year-old Carli Hamilton, her twin brother, A.J., and younger brother, Cole, 6, brought their three Mini Rex bunnies, all of which became part of the family during last year's Canfield Fair.
But don't think that the three bunnies, named Cheddars, Midnight and Little Joey, are the children's sole companions.
"We also have horses, and we have cats, and chickens, and geese, and a frog, and two fish," Carli, a Jackson-Milton Elementary School second-grader, said proudly.
"[Carli] named it before I even bought it," said her mother, Megan Hamilton, referring to her daughter's bunny.
Sunday's blessing may have been fun for most participants, but it also had a deeper underlying spiritual meaning, Mr. Smuda explained.
"The event is a way of acknowledging that all of this is under God's order," he said. "We want to recognize that animals are important to us, especially pets, when they're part of a family. They're part of God's creation."