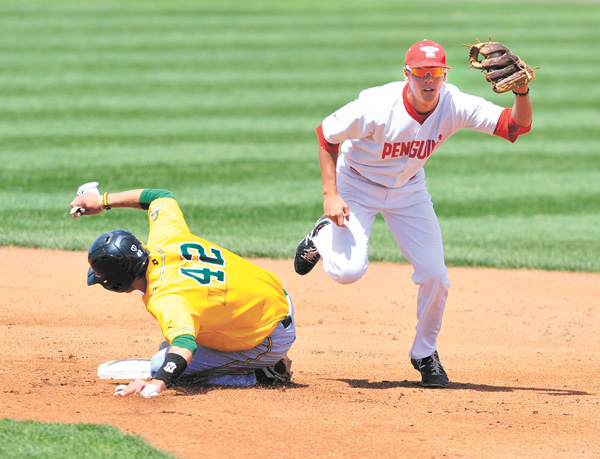 ---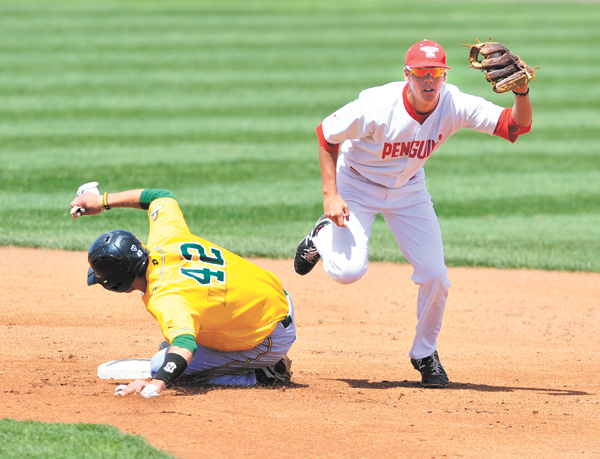 Photo
YSU short stop Phil Lipari steps on second to force Wright State's Michael Timm out before turning a double play to first during the eighth inning of Sunday's game at Eastwood Field in Niles. The Penguins hung on to win 7-4.
YSU hangs on for a win against Wright State
By Joe Catullo Jr.
NILES
What could have been a routine double play for Youngstown State in the top of the fifth inning on Saturday turned into disaster that cost the Penguins the game against Wright State.
On Sunday, YSU made sure it wouldn't happen again.
Leading by one in the top of the eighth inning, Nic Manuppelli put runners on first and second base with one out, struggling with his command.
"I told Phil [Lipari] 'Let's twist it here,'" Manuppelli said. "It was all about location there, and I let my fielders do the work for me because I trust them completely."
Michael Timm bounced a first-pitch fastball to Lipari. The shortstop fielded it cleanly, stepped on second base and fired it to Kevin Hix, leading the way to a 7-4 victory at Eastwood Field.
"We pretty much had that same play yesterday, and we threw it away," YSU coach Steve Gillispie swaid. "It absolutely turned the momentum because things could have gone south in a hurry."
In the bottom of the eighth inning, WSU (20-23, 8-10) gave the Penguins (14-34, 8-10) two huge insurance runs. Jack Graham hit a weak grounder that went through third baseman John Brodner's glove and scored two runners.
"It was good to see something go our way this weekend when we hadn't have too many things going good for us," Gillispie said.
Freshman Jared Wight made his first Horizon League start for YSU. Throughout the first five innings, nobody reached second base. YSU capitalized offensively with a 5-0 lead into the sixth inning.
Wight (2-1) record two outs but allowed three runs in the sixth. Gillispie said the Penguins' four-run, 30-minute fifth inning might have hurt Wight but was overall pleased.
"To do it to prevent a sweep against a very good offensive team that we're trying to catch back up to, I tip my hat to him," Gillispie said. "He took the ball, he wanted the ball and gave a quality effort."
Offensively, YSU got a jolt from designated hitter Jake Kucek with two hits and two RBIs. Kucek missed most of this season and last year due to a torn rotator cuff.
"I still can't throw," Kucek said. "Each day I come to the park, and I do what I can to help the team. I prepare myself to help the team at any cost every day."
YSU committed no errors for the first time since April 23 at Kent State and are 13-6 when scoring at least six runs.
The Penguins were tied for second place in the conference before the series began. Before Sunday's victory, they were last. YSU has seven games remaining with six of them on the road against conference rivals.
"From a standpoint of what we want to accomplish, it was a very important game," Gillispie said. "More importantly, I think it was more important that we played better baseball because when we do that, we can be a handful. I think it was important from a lot of standpoints and not just the conference."