'Nice way to get ready for Mother's Day'
---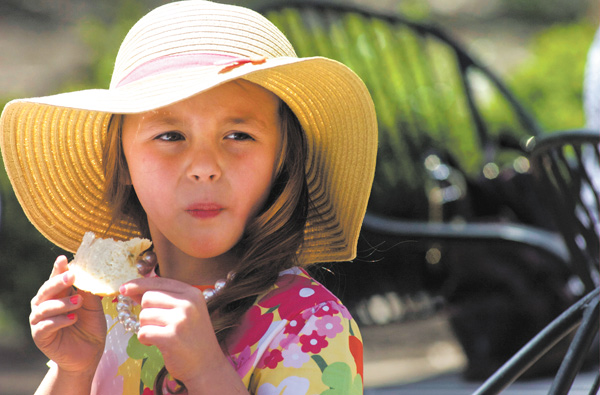 Photo
Kennedy Collinsworth, 6, of Boardman eats her lunch Sunday during the Mommy & Me for Tea and Fashion Show at Lariccia Family Community Center in Boardman Park. Kennedy, who was at the event with her mother and grandmother, also plays with a tea set at home that's been passed down to her from her grandma.
By ELISE McKEOWN SKOLNICK
BOARDMAN
About 60 little girls donned their prettiest dresses and party shoes to share a special day with their mothers and grandmothers.
It was Boardman Park's ninth annual Mommy & Me for Tea and Fashion Show.
"We have crafts and we have lunch, and then the girls will do a little fashion show where they're the models and they get to strut their stuff down a runway," said Karen McCallum, recreation director. "It's just good fun for the moms and daughters to enjoy a day out together."
Tammie Conroy of Austintown and her daughter, Marissa, attended for the second year.
"We had a wonderful time," Tammie said. "It was a very nice way to get ready for Mother's Day."
Marissa, 7, wore a navy dress with white and navy striped shoes. Blue is one of her favorite colors, she said.
It's fun and special to spend the day alone with her mother, Marissa said.
"We're impressed with all the different things that are here," Tammie said. "We were so impressed last year with the activities."
Marissa started the day by coloring her place mat and moved on to make a decorative teapot craft.
Elaine Mathews of Cort- land brought her 8-year-old granddaughters Mary Grace Mason of New Middletown and Noelle Spin of Boardman to the event.
Noelle has attended the event for years, Mathews said, but this was the first time for Mary Grace.
"They do a very nice job," Mathews said. "It's all about the girls and the moms."
While Noelle's mom, Connie Spin, waited in the lunch area, Mathews helped the girls make crafts to give as gifts to their mothers. They also made Mother's Day cards.
"I really like doing it because it's really fun to spend some time with my grandma because I really don't get to see her that much," Noelle said.
The girls were ready for the fashion show. Noelle wore a denim shirt dress with pink-flowered leggings and pink ballet flats, while Mary Grace wore a blue and green dress and white sequined sandals. Both girls curled their hair for the event.
They don't get a chance to dress up often, so it's fun, Mary Grace said.
The semiformal event was in the park's Lariccia Family Community Center.