Nationals' Moore too much for Bucs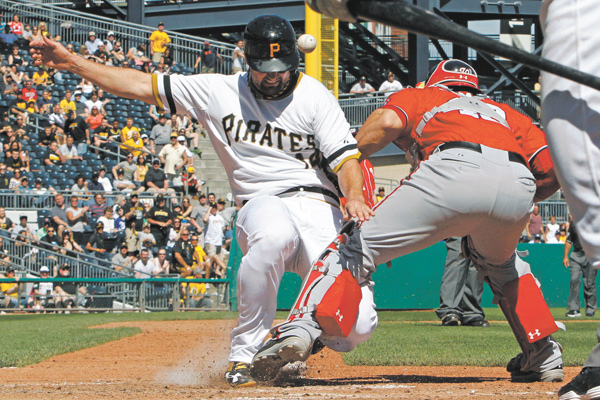 ---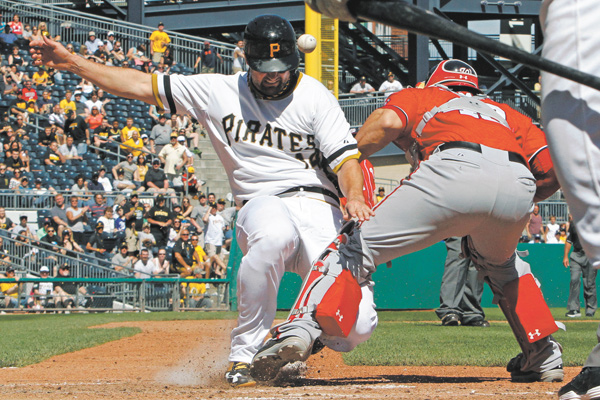 Photo
Nationals catcher Wilson Ramos (40) cannot handle the relay throw and the Pirates' Gaby Sanchez scores on a double by Russell Martin during the sixth inning Sunday's baseball game in Pittsburgh. Washington rallied in the eighth to down the Pirates, 6-2.
Associated Press
Pittsburgh
Clint Hurdle was confident he had made the right move, even though if didn't work out.
With out and first base open in the eighth inning of a one-run game, the Pittsburgh Pirates manager decided to intentionally walk the Washington Nationals left-handed-hitting first baseman Adam LaRoche in order to have rookie right-handed reliever Bryan Morris face right-handed hitting Tyler Moore.
It made sense from a statistical standpoint. LaRoche had been 4 for 7 with four walks to that point in the three-game series while Moore had struck out six times and had a .158 batting average.
The move backfired, though, as Moore hit a three-run homer off Morris to seal the Washington Nationals' 6-2 victory over the Pirates on Sunday.
"LaRoche had been on base all weekend and seeing the ball well," Hurdle said. "We decided to go right-on-right there with Morris against Moore and it didn't work out."
Danny Espinosa homered and drove in three runs and Gio Gonzalez (3-2) won for just the third time in seven starts after winning 21 games last season.
Moore homered for the first time this year after hitting 10 in 75 games last season as a rookie. He also hit the go-ahead sacrifice fly Saturday in the ninth inning as the Nationals edged the Pirates 5-4.
Gonzalez allowed two runs and five hits in six innings, walking two and striking out five. He had been tagged for 18 runs and 21 hits in his previous four starts, going 1-2 in that span.
Starling Marte hit a leadoff homer in the first, his fourth in five games for Pittsburgh. The Pirates then loaded the bases with none out but Gonzalez escaped the jam by striking out Russell Martin and Michael McKenry and getting Brandon Inge to ground out.
Espinosa's two-run homer in the fourth put Washington ahead for good at 3-1. He also hit a sacrifice fly in the second as the Nationals won for the fourth time in five games and sent the Pirates to third loss in four games.
Nationals star Bryce Harper was ejected in the first inning for disputing a checked-swing third strike. He tried to hold up on a 2-2 pitch from Wandy Rodriguez and home plate umpire Bob Davidson pointed to third base ump John Hirschbeck of Poland for help. Hirschbeck ruled that Harper had swung.
Harper stood outside the batter's box, stared at Hirschbeck for a few moments and dropped his bat. Hirschbeck then tossed last season's NL Rookie of the Year. It was the first ejection this year for Harper and second of his career.
"John's a good umpire and he made the right call," Nationals manager Davey Johnson said. It's tough losing a player in the first inning, though."